PATRIOTS, I'm no anti-semite, but I certainly think it's fair game to ask whether ALL of the problems currently troubling our GREAT COUNTRY and our GREAT REPUBLICAN PARTY can be blamed on a SECRET JEWISH SPACE LASER. It's not SO CRAZY if you DON'T think about it! This question isn't just being asked by WINGNUTS like myself, but FULL-FLEDGED lawmakers in the Republican Party, like Marjorie Taylor Greene, easily the most PATRIOTIC AMERICAN PATRIOT since Dennis Rodman!
Representative Trailer Queen–I mean Taylor Greene–has SET A NEW BAR for WILDLY OFFENSIVE CONSPIRACY THEORIES since getting elected to the People's House on a PERFECTLY SANE GOP platform of QAnon conspiracy fearmongering, like stopping Democrats from allegedly harvesting the organs of children in Satanic rituals, something that was obviously TOTALLY REAL and near-and-dear to the hearts of her PERFECTLY SANE constituents in Georgia (what the HELL is up with that state electing two Democrats to the Senate and Greene to the House?!?!). But that's just the tip of the iceberg for this WOMAN OF GOD AND AMERICA! Greene believes ALL SCHOOL SHOOTINGS are staged hoaxes, 9/11 was an inside job by the U.S. government, Muslims shouldn't be allowed to serve in government, and Democrats should be executed. ALL THINGS THAT MAKE TOTAL SENSE IF YOU NEVER THINK ABOUT THEM, AND YOU ARE ALSO TOTALLY INSANE. (Which is why Trump supporters loved her!) BUT PATRIOTS, ALL OF THAT WAS JUST THE WARMUP ACT!
For JEWISH SPACE LASER!
PATRIOTS, there is no comedic set up that can make this report by New York Magazine any funnier, or more terrifying, than it already is:
The most recent Greene view to be unearthed comes via Eric Hananoki. Just over two years ago, Greene suggested in a Facebook post that wildfires in California were not natural. Forests don't just catch fire, you know. Rather, the blazes had been started by PG&E, in conjunction with the Rothschilds, using a space laser, in order to clear room for a high-speed rail project. Here is Greene's entire post, via Media Matters:
Did you get all that? No? Neither did I. Really, it's one of the most PATRIOTICALLY INSANE things ever written by a member of Congress. In fact, while we can debate the legal grounds for expulsion from the House of Representatives, which many Dems have called for, there can really be NO DEBATE that these views rise to the level of making Marjorie Taylor Greene an EXTREME DANGER to the AMERICAN PEOPLE! She certainly, has no BUSINESS BEING IN CONGRESS! She needs to be in a MENTAL HOSPITAL!
WHICH IS WHY I SUPPORT HER!
You see, as a TRUMP SUPPORTER, like GameStop stock, my entire connection with facts & reality has been COMPLETELY severed. I no longer live on this plane of existence. I am purely what I and others imagine myself to be! In the FANTASY WORLD I inhabit, again, as an avowed TRUMP SUPPORTER, all of the PROVABLY FALSE things Marjorie Taylor Greene has said are true! TRUE, BECAUSE THEY ARE FALSE, you see! It doesn't have to make sense, it just has to keep reinforcing the INFINITE FEEDBACK loop of the Republican Party, like buying a stock makes a stock a good buy! CAPITALISM! If everything Trump and the GOP do is good, then everything bad is good; and, if everything bad is good, everything false must also be true! Then, in this ALTERNATE REALITY OF TRUMP AND GOP ALTERNATIVE FACTS, Marjorie Taylor Greene is not the greatest threat to America, she is our greatest asset. We are no longer bound by the constraints of TRUTH in OUR PARTY, and in OUR COUNTRY, sir! WE ARE THE JEWISH SPACE LASER OF POLITICAL PARTIES! RACIST, ANTI-SEMITIC, ONLY MAKING SENSE INSIDE OUR OWN MINDS, AND THE GREATEST THREAT TO THE PLANET EARTH IN EXISTENCE! WE ARE PATRIOTS!
And, Republican House Leader Kevin McCarthy feels the same way. He's not listening to those stupid Democrats who think Marjorie Taylor Greene is a threat, just because she is threatening our country and her fellow members of Congress. McCarthy knows that Marjorie Taylor Greene IS THE GOP! AND, WE COULD LEARN A THING OR TWO FROM HER INSANITY. That's why the GOP PUT HER ON THE EDUCATION COMMITTEE!!!!!!!!!!!!!!!!!!!! (ARE YOU F***ING KIDDING ME? THIS CAN'T BE REAL LIFE! IS IT? ARE YOU SURE? DID I GET HIT IN THE HEAD!?!?!?! THE EDUCATION COMMITTEE?!?!?!)
CRAZY NANCY had a typically crazy response to this TOTALLY SANE MOVE by the GOP to put the school shooting truther on the education committee!
"Assigning her to the Education Committee when she has mocked the killing of little children at Sandy Hook Elementary School, when she has mocked the killing of teenagers in high school at the Marjory Stoneman Douglas high school — what could they be thinking? Or is thinking too generous a word for what they might be doing?"

'CRAZY' Nancy Pelosi
Very generous, Nancy!
And, THE GOP totally knew Marjorie Taylor Greene was TOTALLY CRAZY a long time ago, but Kevin McCarthy, "did little to stop her," Axios reports. According to Greene's LOSER primary opponent John Cowan, LOSER, "Everybody was well aware of her previous persona and who she is. I would say they all knew she was going to be a problem… Maybe they just assumed that the awe of winning an election would calm her down a little bit, and so she would actually be interested in governing and be interested in policy, and she's just clearly not. She is literally there for a stage production."
HEY JOHN, YOU KNOW WHAT THEY SAY, CRAZY TALKS AND SANITY WALKS IN THE GOP! SO WHY ARE YOU IN IT?
But CoMpLeTe SaNiTy talks, too. Because Republican Leader Kevin McCarthy has a solution to Marjorie Taylor Greene's "deeply disturbing" and PATRIOTIC belief that everything she can see with her eyes is FAKE, Democrats need to be SHOT, and JEWISH SPACE LASERS are real.
"These comments are deeply disturbing and Leader McCarthy plans to have a conversation with the Congresswoman about them," spokesman Mark Bednar told CNN.

CNN (Clinton News Network)
CONVERSATION! Right. I'm sure that'll fix everything, because everyone knows when you run into a CRAZY TRUMP SUPPORTER, a good, fact based conversation usually changes their mind.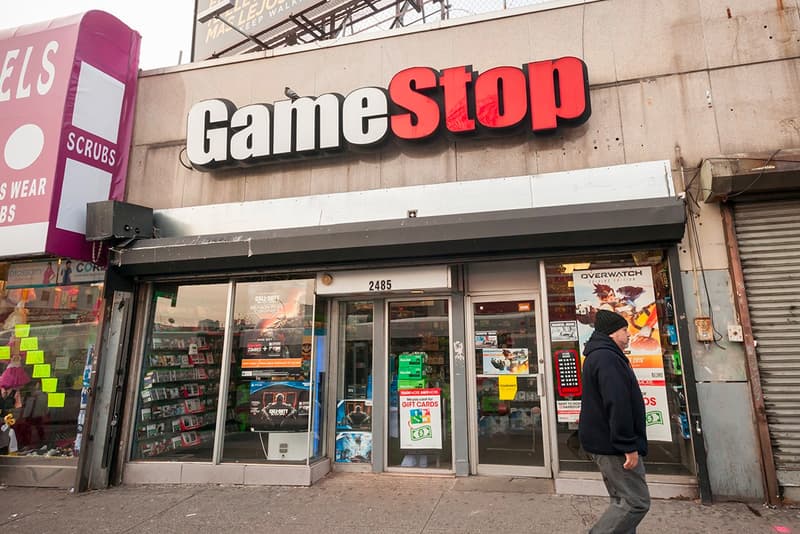 NOTE: This column is not intended as investment advice. In fact, anyone who interprets this column as advice of any kind, or think's it's remotely smart or funny, is, well, a moron.
PATRIOTS, as a proudly irrational person, nothing gets me more excited than getting excited about things I don't understand. That's why, when I heard that a bunch of people on Reddit had somehow pushed the stock price of worthless company GameStop up over 300% simply by all buying the worthless stock, and in the process made many of themselves into millionaires overnight, I said, "What? I literally don't understand any of that!"
Well, PATRIOTS, let me explain. You see, I don't know. I don't know anything about any of this. What I do know is that big, fat Wall Street hedge funds who have become far too accustomed to screwing over the American middle class for years are losing big! Like, BILLIONS and BILLIONS of dollars big, because of the actions of these Redditers on the message board r/wallstreetbets. That's because the hedge funds shorted the stock of the flailing video game retailer, GameStop, meaning they BET IRRESPONSIBLY HUGE amounts of money that the stock would become basically worthless. BUT SURPRISE! Instead, everyone on r/wallstreetbets seems to have banded together to buy huge amounts of the stock, thereby driving the price up MASSIVELY, and screwing the hedge fund guys! The price of GameStop stock went up from $18 per share to over $300 per share! So the greedy hedge funds are now on the hook for somewhere around $2.75 billion dollars! Maybe even over $5 billion! Yikes! That's a bigger loss than a Trump Casino!!!!
And the big gains by these Robinhood's investing on the Robin Hood app has attracted a whole bunch of copycats to similarly worthless stocks that the Average Joe RedditPack thinks the hedge funds may have gotten way over their skis in betting billions against. Now, those Redditors have a couple billion dollars in capital to spend taking down their next target! Which shitty worthless stock will they turn against the Wall Street Fat Cats next? I don't know!
IN FACT, I DON'T KNOW WHAT'S GOING ON!!!!
This is SOO CONFUSING! MARGINS! What are those? Like the sides on a piece of paper? OPTIONS! Those are the things I can change on video games, right? SHORTS! I wear those when it's hot out, right? NO! APPARENTLY, THOSE ARE ALL STOCK MARKET WORDS!
Here's a word: F************** THIS IS CONFUSING!
But, there's money to be made, and it looks easy, so as of today, I'm pouring all my money into this wild, casino system that's always been rigged against me and that I don't understand. CAPITALISM! (NOTE: I'm not doing this.)
But, PATRIOTS, we can't get caught up in punishing the greedy just because they're evil. We must spare a thought for the many, many, many, unscrupulous corporate raiders who lost their fourth yacht as a result of this HORRIBLE ATTACK on WALL STREET!
CNBC must defend these people! This MANIPULATION OF THE MANIPULATIVE MUST BE PUNISHED BY THE GOVERNMENT THAT DIDN'T PUNISH ANY OF THE MANIPULATORS BEFORE! REGULAR PEOPLE SHOULDN'T BE MANIPULATING! THAT'S MEAN!
But the new corporate raiders on Reddit aren't having it! As evidenced by one Reddit poster's "open letter to CNBC" which criticized the network for it's "contempt for the retail investor" and for allowing giant, evil hedge funds to "manipulate the market via your network and if they screw up big … they just get a bailout."
Yes, that's what's called CAPITALISM! Now you get it! The little guy never wins!!!