PATRIOTS, there's nothing I love more than the RESPECTFUL PLAYING of OUR AMERICAN NATIONAL ANTHEM! I bleed RED, WHITE AND BLUE, and I SING PROUDLY every time I hear it played before a GAME OF SPORT (when I feel like it, which is rarely), or at least, I mock conduct an imaginary orchestra in the most sarcastic way possible, LIKE OUR GREATEST AMERICA-HATING PRESIDENT!
But PATRIOTS, I am sad to report there will be NO MORE playing of OUR NATIONAL ANTHEM, because, starting today, AMERICA IS NOW OFFICIALLY DEAD! The communists killed it!
And, by communists, I mean the America-hating bastard who runs one of the franchises of the NATIONAL BASKETBALL (& SOCIALISM) ASSOCIATION, Mark Cuban, owner of the NBA's Dallas Mavericks! Mark Cuban is a well known LEFTIST SCUM, who has criticized Former President Donald Trump, which automatically makes him one of the most EVIL threats to freedom that the human race has ever seen. Now, MARX CUBAN (is he American or Cuban? Pick a side DEVIL-MAN!) has directed his team to stop playing the national anthem before home games.
Cuban … made the decision after consulting with NBA commissioner Adam Silver. The Mavericks did not announce the change in policy, but the national anthem has not been played before any of their 13 preseason and regular-season games at the American Airlines Center this season.

ESPN (Extremely Socialist Pelosi Network)
And because the WEAK-KNEED NBA has refused to FORCE it's teams to RESPECT OUR GODDAMN COUNTRY IN THE WAY I SEE FIT, now it appears every team can just do whatever the hell they want! They can stop playing the anthem, just because it has nothing to do with sports. Hell, they can even start calling for social justice and racial equality! What is this, COMMUNIST CHINA?!?!?!?
Unlike Former President Trump, who criticized the "son-of-a-bitch" athletes who kneeled during the anthem, CUBAN has been DISMANTLING OUR FREEDOM one step at a time, with his encouragement of EVIL, SOCIALIST KNEELING during the anthem. He said last year that, "When our players in the NBA do what's in their heart, when they do what they feel represents who they are and look to move this country forward when it comes to race relationships, I think that's a beautiful thing and I'll be proud of them."
Okay CUBAN, go back to CUBA! What's that? He was born in Pittsburgh, PA? Well, I don't give a Schumer! He sounds like a foreigner to me! That's strike one! And banning OUR ANTHEM is STRIKE THREE! Let me put this in a basketball analogy for you, CUBAN! Three strikes and you're out!
This AMERICA-HATER is so caught up in racial equality that he's forgetting what this country was founded on: blind allegiance to government!
Instead, Cuban says, "The National Anthem Police in this country are out of control. If you want to complain, complain to your boss and ask why they don't play the National Anthem every day before you start work."
I agree! Why isn't my boss playing the National Anthem every morning at work, with the VOLUME ALL THE WAY UP SO WE GET THE FREEDOM BORED INTO OUR SKULLS?!?!?! I say every workplace in America needs to start playing the National Anthem every day!
CONSERVATIVE VALUES ARE UNDER ATTACK with this decision!
Why isn't Fox News playing the anthem every day, all day? Do they hate FREEDOM? Are they liberals? I say we STORM Fox News unless they start PLAYING THE ANTHEM at the beginning of every workday! Actually, it should just play on loop. Otherwise, FOX is America's new enemy number one! Otherwise, the TERRORISTS WIN!
PATRIOTS, Larry Kudlow has been the dumbest guy in the room for a long time, and you have to admire him for being SO GOOD AT IT. For example, in 2005, he said people predicting a real estate crash were "dead wrong," and just because HE turned out to be dead wrong, that didn't stop him from predicting in 2007 that "there is no recession," right before something called the GREAT Recession, and just because he turned out to be wrong about that, too, that didn't stop him from making a whole bunch of other wrong predictions for a decade, until he FAILED ALL THE WAY up to being Biden's PREDECESSOR'S TOP ECONOMIC ADVISER, where, in February 2020, right before COVID crashed the stock market, he told Americans it would be a good time to buy stocks. All of this must have been rather hard, considering that although he served as the PREDECESSOR'S economic adviser, he was not, in reality, an ECONOMIST. And so, it should come as no surprise PATRIOTS, that LARRY KUDLOW continues to be invited on FOX NEWS and FOX BUSINESS to say very WRONG AND DUMB THINGS, WRONG AND DUMB THINGS TO REPUBLICANS ABOUT DEMOCRATS, LIKE ALL GOOD AMERICANS DO! What I'm trying to say here is, HE'S A REAL AMERICAN PATRIOT!
Now, KUDLOW'S dropped another KNOWLEDGE TURD, that STINKS to high heavens, this time about BIDEN! SLEEPY, HIDIN' BIDEN! ENEMY OF THE PEOPLE who's trying to pass the economic aid for the American people that TRUMP PROMISED BUT NEVER DELIVERED! FAKE economist Larry Kudlow said on Maria Bartiromo's FAKE business TV show on the FAKE news channel Fox Business Network, that he didn't know "Whether [Biden's] an empty vessel for the far left wing of his party," and when asked whether Biden understood what he was signing with executive orders he'd signed, he replied, "That's a good question," (it was not) before he refused to say whether Biden is "alert or not alert."
And just because Larry Kudlow was clearly lying, like he has lied and been wrong for his entire career, and just because there's no evidence that Biden is "not alert," that doesn't mean we, AS PATRIOTS AND CONSERVATIVES, can't pretend KUDLOW WAS TELLING THE TRUTH! Biden is DERANGED! He's ILL and WEAK. How do I know? Because I don't rely on LAZY, LIBERAL FACTS to reach my conclusions! I find TRUTH that I WANT TO BE TRUE, and I find my TRUTH in the same place FOX BUSINESS NETWORK AND MARIA BARTIROMO AND LARRY KUDLOW do, right up TRUMP'S BUTTHOLE! MMM, smells like McDonald's up here! Why would we ever leave?!?!?!
Kudlow also said during this "interview" that President Biden, "may be, really, given his first couple weeks, the most left wing president we've ever seen." He said, the Democratic Party "has moved a hundred yards to the left" and "way to the left of Barack Obama." Again, it was a PERFECTLY GOOD CONCLUSION, as long as you don't worry about any LEFTIST FACTS! Biden is the most radical, left-wing nut job ever to hold office, and I know this because I WANT IT TO BE TRUE!
What's Biden doing right now, you ask? He's working on sending out those checks TRUMP wanted to send? EVIL! COMMUNIST! SOCIALIST!
The libs GOT TRIGGERED by this TRUTH!
NEWSFLASH: PEOPLE LIKE LARRY KUDLOW LOVE AMERICA! AND BY LOVE, I MEAN HATE! They're what we call PATRIOTS, okay?
If the government isn't doing something for them, namely letting them pretend they're qualified to have a job in it, then IT'S RADICAL, LEFTIST, COMMUNIST, and any of the other BAD "ISTS" you can think of! They stand for exactly one thing! THEMSELVES! "If TRUMP'S BUTTHOLE CAN GET BACK INTO THE WHITE HOUSE," they think, "I CAN TOO! 'CAUSE MY HEAD'S STILL IN IT!"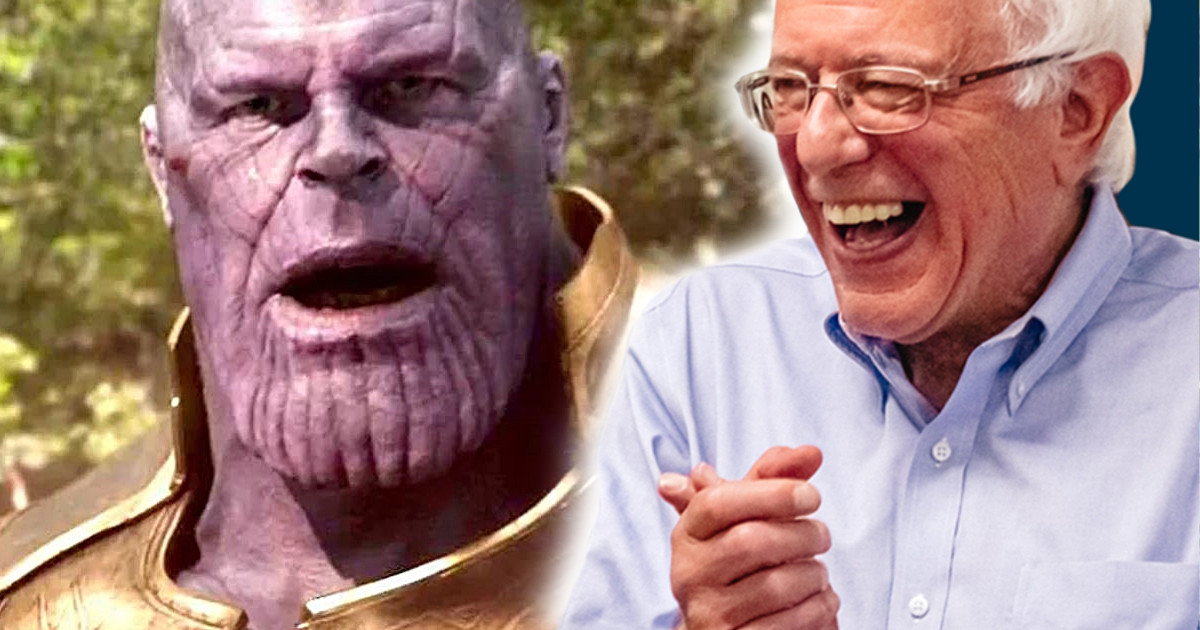 PATRIOTS, I'm no fan of BIG HOLLYWOOD, and their sick, creepy billionaire Satanist pedophiles. But I took notice of MOVIES, perhaps for the first time ever, this morning, when HUMAN MY PILLOW and Republican Senator Thaddeus "Ted" Cruz came in like a HEAT-SEEKING MISSILE with a HOT TAKE on HOLLYWOOD HYPOCRISY! On his show, "Verdict with Ted Cruz," which is a thing NOT A SINGLE HUMAN ON EARTH had ever heard of before RIGHT NOW, Ted said, BAD GUYS IN MOVIES ARE LEFTISTS! BOOM! Owned, LIBS! GAME OVER! TAKE YOUR BALL AND GO HOME! The lying, communist movies of Hollywood have just told you an INDISPUTABLE TRUTH!
"Have you noticed in how many movies how often rabid environmentalists are the bad guys? Whether it's Thanos or go to 'Watchmen.' The view of the Left is people are a disease"

LYIN' TRUTHIN' TED!
Now, PATRIOTS, I know there's a lot of real news out there to distract us, but let's FOCUS UP for a second and take Lyin' Ted at his word. He's making two great points, here, and both are TOTALLY, INDISPUTABLY TRUE! 1.) Yes, THANOS and WATCHMEN are environmentalists. 2.) THANOS and WATCHMEN are LEFTISTS! EVIL! 3.) LEFTIST Hollywood made Thanos the environmentalist, which we're supposed to root for, so we're supposed to root for Thanos… because he's actually the HERO, or something? EVIL! EVIL!
That's three? SCREW YOU, LEFTIST. I use ALTERNATIVE MATH!
Unfortunately, some SICK LEFTIST IDIOTS who've never done anything other than make the movies and TV shows Lyin' Ted references, are DISAGREEING. EVIL LEFTISTS! EVIL! EVIL!
Excuse me, Lila, but I think Lyin' Ted knows a little more about the Watchmen than you do! His favorite character is Rorschach, a guy who the CREATOR OF WATCHMEN once said was meant "to be a bad example."
I meant him to be a bad example, but I have people come up to me in the street saying, 'I am Rorschach! That is my story!' And I'll be thinking, 'Yeah, great, can you just keep away from me and never come anywhere near me again for as long as I live?'"

Alan Moore (LOSER)
Ted's GONNA TED, baby! He IS the bad example. As bad an example as the environmentalist, THANOS, who, like all environmentalists, WANTS TO KILL HALF OF THE LIFE IN THE UNIVERSE! That's why environmentalists are working so hard to STOP CONSERVATIVES from filling the atmosphere with HEALTHY, LIFE GIVING SMOG and TOXIC WASTE! They don't RESPECT LIFE!
But Lyin' is also demonstrating a deep knowledge of Marvel lore with his Thanos reference. Ted's got a long history of making comparisons between Thanos and LEFTIST SCUM, and with good reason, because in September 2019 it was reported that Democratic Socialist Bernie Sanders had announced that THANOS would be his running mate. It was announced by none other than NOTED NUTCASE, Ted Cruz! And, just because that joke turned out to be neither TRUE nor FUNNY, it was still true. LEFTISTS are just like THANOS. "The view of the left," as TED says, "is that people are a disease." As, opposed to the views of CONSERVATIVE REPUBLICANS, whose view is that "people should have a disease. Namely COVID."