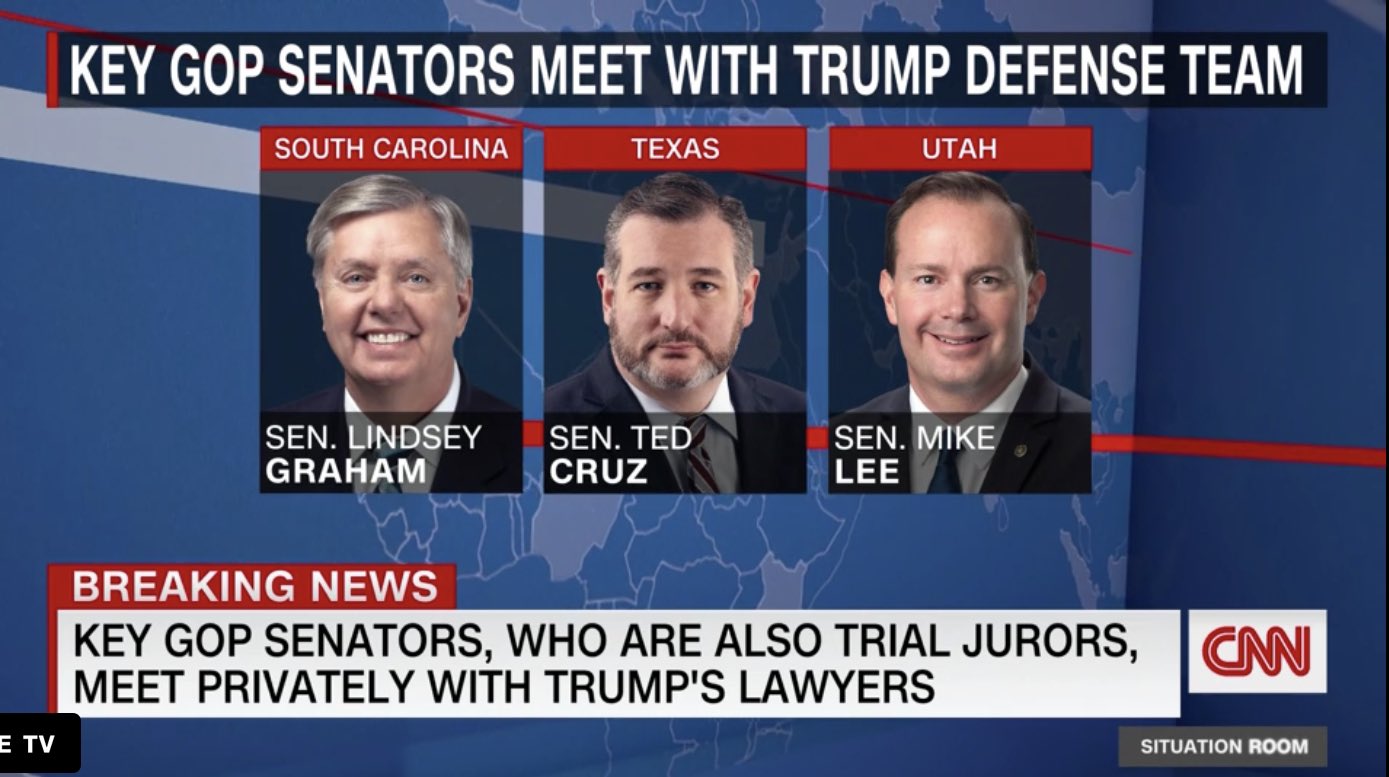 PATRIOTS, there's nothing I hate more than a RIGGED SYSTEM! That's why I supported TRUMP supporters' PATRIOTIC efforts to overthrow the government and end democracy. Because the system was rigged! The election was rigged against TRUMP! Democrats are trying to impeach TRUMP because they don't understand that RIGGED THINGS ARE BAD! TRUMP IS GOOD! And that's why I totally support the GOP'S effort to RIG the impeachment trial FOR TRUMP!
You see, RIGGING is BAD, unless you're RIGGING FOR TRUMP! That's just being fair!
So, let us RIG THIS F***ING SYSTEM LIKE IT'S NEVER BEEN RIGGED BEFORE! TO STOP THE STEAL!
TO STEAL THE STOPPING OF THE STEAL!
And 3 Republican Senators are doing their PATRIOTIC AMERICAN part to rig the case of TRUMP v. AMERICA in favor of Trump and against America. These three SENATE HEROES are going to serve as the jurors who will deliver a verdict in this impeachment case, and while many of them did not have precious time to listen to the EVIL, factual arguments made against TRUMP by the prosecution in this case, these IMPARTIAL, PATRIOTIC JURORS did have time for a 70 MINUTE LONG MEETING WITH THE TRUMP DEFENSE LAWYERS to discuss "'sharing our thoughts' about their legal strategy," CNN reports.
Sens. Lindsey Graham of South Carolina, Ted Cruz of Texas and Mike Lee of Utah were spotted going into a room in the US Capitol that Trump's lawyers were using to prepare for their arguments.

Trump lawyer David Schoen said that the senators were "very friendly guys" who just wanted to make sure they were "familiar with procedure" on the eve of their rebuttal to the House impeachment managers' presentation.

When asked if it's appropriate to meet with senators during the trial, Schoen said, "Oh yeah, I think that's the practice of impeachment."

"There's nothing about this thing that has any semblance of due process whatsoever," he added.

CNN (CLINTON (FAKE) NEWS NETWORK)
Yes, there's "no semblance of due process whatsoever" in this trial, AND THAT'S JUST HOW REPUBLICANS LIKE IT, because that's the only way that the president who incited a mob to try to kill the Vice President and Speaker of the House WILL GET AWAY WITH HIS CRIMES!
GOP, WE LOVE CRIMES! And, we also love a jury that will VOLUNTARILY TAMPER WITH ITSELF! Now that's what I call integrity. These CONSERVATIVE HEROES have so much f***ing integrity that they willingly go on TV and tell the American people that the entire trial of TRUMP is a TOTAL SHAM because the Republican senators on the jury are also HELPING THE DEFENSE strategize on how to get away with its crimes. That's even more astonishing, because the crime the defense is accused of is LITERALLY TRYING TO MURDER the jury! Dang!
That's some next level BOOTLICKING!
I hope Trump rewards these ASS-KISSERS with another attempt to incite a riot against them! They deserve it!
And you know it was a PERFECTLY INNOCENT meeting between a guilty defendant's legal team and the JURORS that they need to help them PATRIOTICALLY RIG the case, because just look how eager Senator Lindsey Graham is to share what was discussed in this perfectly SANE and RIGHT meeting that he participated in with the TRUMP LAWYERS!
Just LOOK AT THE SPEED at which he ran from those questions! EVERYTHING'S ON THE UP AND UP HERE! NOTHING TO SEE!
Now, of course, SOME STUPID LIBS were TRIGGERED by Republican Senators' total refusal to protect their own branch of government from a violent, anti-democratic attack, but that's just because LIBS, like all EVIL LEFTISTS are STUPID!
Sorry, LEFTISTS, but you're STUPID. Does the jury agree?
Case closed, LIBS!
But, just in case that doesn't sway your little PEA BRAINS, here's some straight shootin' from ol' TEXAS LYIN' TED! He's rustlin' up some facts for FAKE NEWS CNN!
When asked if he's now comfortable with the Trump team's legal strategy, Cruz said, "I think the end result of this impeachment trial is crystal clear to everybody."

"Donald Trump will be acquitted," he added. "It takes 67 votes to convict him and every person in the Senate chamber understands that there are not the votes to convict, nor should there be."

(FAKE FALSE STUPID LAME) CNN
"And if there's one thing that could change anyone's mind, it's LITERALLY ANY OF THE EVIDENCE," Lyin' Ted (probably) added, "which is why I'm going to go in a room and shove my huge, potato-shaped head right up TRUMP'S ass for the next 70 minutes to make sure I don't hear any of it."
THANKS FOR DEFENDING THE CONSTITUTION, LYIN' TED, LINDSEY GRAHAM, AND MIKE LEE! You three stand for nothing, just the way TRUMP likes it!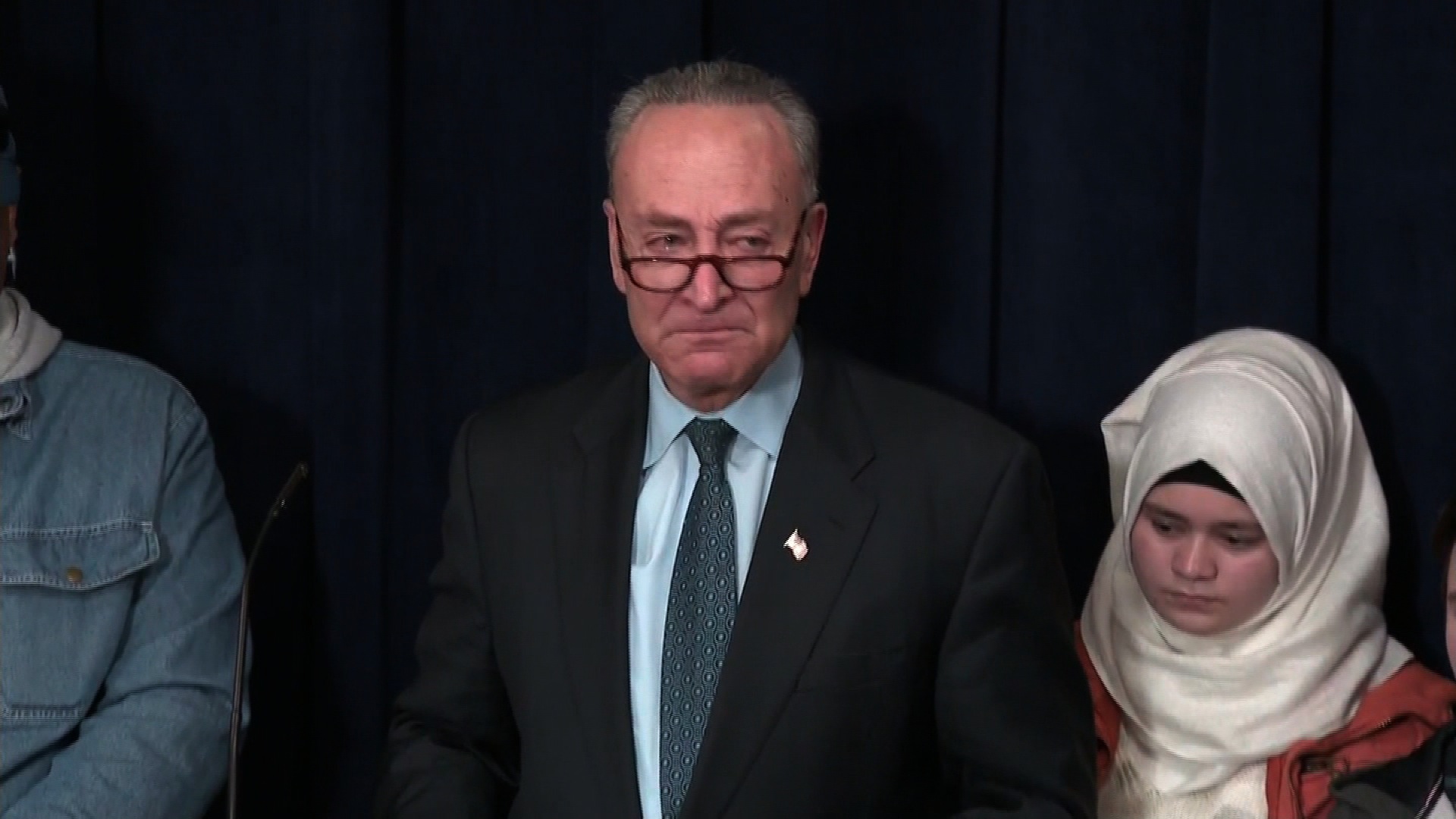 PATRIOTS, everybody knows Cryin' Chuck Schumer is a WHINY little bitch (at least everybody who read and believed the vile spew coming from President Joe Biden's PREDECSSOR'S Twitter before it was deactivated for domestic terrorism), but now Cryin' has sunk to a new low. He took to the Senate floor, the most sacred place in the U.S. Capitol, which is reserved only for democratic proceedings and crazy men dressed as vikings, to take another cheap shot at Biden's PREDECESSOR over the PREDECESSOR'S attempt to overthrow democracy. In a speech to MEMBERS, in which Schumer said the article of impeachment against the Predecessor would be delivered to the Senate on Monday, Cryin' Chuck accused Biden's PREDECESSOR of trying to incite an "erection".
HAHAHAHAAHAHAHAHHAHAH! HE SAID "ERECTION!" HE SAID "ERECTION!"
But PATRIOTS, everybody knows, when you take a shot at the KING'S WIENER, you'd better not miss! And CRYIN' missed BIGLY, because everybody knows, nobody is HARDER for FASCISM than Joe Biden's PREDECESSOR.
What's that? PREDECESSOR'S own, white-supremacist, misogynistic Nazi supporters are now calling Biden's PREDECESSOR "flaccid"?
Damn. Here's what The "FAKE" New York Times reported about the PREDECESSOR'S biggest supporters, the boys who have the least to be proud of, THE PROUD BOYS!
. . . by this week, the group's attitude toward Mr. Trump had changed. "Trump will go down as a total failure," the Proud Boys said in the same Telegram channel on Monday. . .

Last week, Nicholas Fuentes, the leader of America First, wrote in his Telegram channel that Mr. Trump's response to the Capitol rampage was "very weak and flaccid" and added, "Not the same guy that ran in 2015."

– The 'FAKE' New York Times
Damn. PREDECESSOR even lost his MOST RACIST supporters. This whole MAGA movement is starting to look like a shriveled up hot dog. Even the CRAZIEST of the CRAZIES are abandoning the PREDECESSOR TRAIN. The Q Anon CULT, which believed that PREDECESSOR'S every move was part of a massively convoluted and secret effort to expose and arrest members of a secret cabal of satanist, child-eating, pedophiles (AKA DEM-O-RATS) who run EVERYTHING in the world, IS ABANDONING THE PREDECESSOR TRAIN!
The Q-NUTS thought that on Wednesday, the Bidens, Obamas and the Clintons "would be rounded up and executed for child sex trafficking, treason and other crimes," and Trump would be inaugurated for a second term. SADLY, PATRIOTS, THEY–and we–WERE WRONG!
Like a flipped switch, the attitude inside online QAnon communities shifted from glee to shock and misery: "NOTHING FUCKING HAPPENED!!!"; "So now we have proof Q was total bullshit"; "I feel sick, disgusted and disappointed"; "Have we been duped???"; "You played us all"; "HOW COULD WE BELIEVE THIS FOR SO LONG? ARE WE ALL IDIOTS?"

– HUFFPOST (or whatever the hell that LIBERAL RAG is called now
WE ARE ALL IDIOTS! We all got F***ed by the "ERECTION" Biden's PREDECESSOR incited. Thanks, Cryin' Chuck!
PATRIOTS, we're breaking every record for historic presidential achievement! Donald Trump is now the first president to ever be impeached TWICE! Most impeached in history! Woo! Crack open a can of Goya to celebrate!
The great, presidential accomplishment that led to TRUMP'S second impeachment? "Incitement of insurrection!" The House of Representatives voted 232 to 197 to impeach Trump on a single article that, in addition to the "insurrection" language, accused Trump of "inciting violence against the government of the United States." WINNING, BABY! The article even calls for Trump to be disqualified from ever holding public office again!
Trump! Trump! Trump!
Now, PATRIOTS, some LIBS might try to tell you that this is BAD, that Donald Trump's second impeachment is a stain on his presidency that indicates he is a woefully un-American narcissist hell-bent on destroying Democracy! Hogwash! TRUMP did it! He proved that the LIBS are a bunch of CRYBABY SNOWFLAKES who can't even take it when their precious democracy is hollowed out and shat in like a dead tree! CRY MORE, LIB!
We will never admit that our MAGA (Make America Grieve Again) movement was a stain on our nation's history. WE LOVE OUR PRESIDENT! WE WILL NEVER ADMIT WE WERE WRONG! DENIAL!
That's all we've got at this point.
But TRUMP is just getting warmed up because on the same day he got a LEFTIST SNUB from Trump-supporting coach Bill Belichick, TRUMP TRUMPED! He gave the Presidential Medal Of Freedom to country singers TOBY KIETH and RICKY SKAGGS in a private ceremony at the White House! The ceremony was PRIVATE! How good is this Republican presidency going? Country music singers don't want to be seen in public receiving an award from the president!
As Toby Keith would say, "The Statue of Liberty started shaking her fist!"
And to top it all off, TRUMP is said to be "isolated and angry at aides for failing to defend him," according to the Loser Bezos Washington Post. Because of that, Trump is now REFUSING to pay the legal fees of his most loyal, bootlicking, sycophantic "lawyer" Rudy Giuliani.
PATRIOTS, like the country of America, no one has done more to promote, aid, and prop-up Donald Trump than Rudy Giuliani. I mean, for goodness sake, Rudy went to every state in the Union and spread Trump's entirely false election fraud claims to undermine democracy, all while dealing with a serious case of SHITHEAD DISEASE, a disease which literally caused shit to leak out of Rudy's head. Rudy went from America's Mayor, to a bumbling, babbling, crotch grabbing oaf who tried to get Ukranian officials to fabricate evidence against his political opponents and held an election fraud press conference at a place called "Four Seasons Total Landscaping" right next to a sex-toy shop in Philly! He called members of Congress during the Trump assault on the Capitol to try to convince them to side with Trump over democracy! He literally DESTROYED his own humanity to HELP TRUMP LIE! And so, Donald Trump is treating Rudy the same way he treated America, the country responsible for his near-success. He's saying F*** 'EM! I GOT MINE JACK! GO POUND SAND! BIGLY!
To paraphrase the words of Ricky Bobby's dad in Talladega Nights, "it's the winners who get paid!"
Suck it America! We've got a 187 IQ, and we hate America, and we love TRUMP! No contradiction there, right Rudy?
Follow Truthmissiles on Twitter here.