PATRIOTS, I'm no anti-semite, but I certainly think it's fair game to ask whether ALL of the problems currently troubling our GREAT COUNTRY and our GREAT REPUBLICAN PARTY can be blamed on a SECRET JEWISH SPACE LASER. It's not SO CRAZY if you DON'T think about it! This question isn't just being asked by WINGNUTS like myself, but FULL-FLEDGED lawmakers in the Republican Party, like Marjorie Taylor Greene, easily the most PATRIOTIC AMERICAN PATRIOT since Dennis Rodman!
Representative Trailer Queen–I mean Taylor Greene–has SET A NEW BAR for WILDLY OFFENSIVE CONSPIRACY THEORIES since getting elected to the People's House on a PERFECTLY SANE GOP platform of QAnon conspiracy fearmongering, like stopping Democrats from allegedly harvesting the organs of children in Satanic rituals, something that was obviously TOTALLY REAL and near-and-dear to the hearts of her PERFECTLY SANE constituents in Georgia (what the HELL is up with that state electing two Democrats to the Senate and Greene to the House?!?!). But that's just the tip of the iceberg for this WOMAN OF GOD AND AMERICA! Greene believes ALL SCHOOL SHOOTINGS are staged hoaxes, 9/11 was an inside job by the U.S. government, Muslims shouldn't be allowed to serve in government, and Democrats should be executed. ALL THINGS THAT MAKE TOTAL SENSE IF YOU NEVER THINK ABOUT THEM, AND YOU ARE ALSO TOTALLY INSANE. (Which is why Trump supporters loved her!) BUT PATRIOTS, ALL OF THAT WAS JUST THE WARMUP ACT!
For JEWISH SPACE LASER!
PATRIOTS, there is no comedic set up that can make this report by New York Magazine any funnier, or more terrifying, than it already is:
The most recent Greene view to be unearthed comes via Eric Hananoki. Just over two years ago, Greene suggested in a Facebook post that wildfires in California were not natural. Forests don't just catch fire, you know. Rather, the blazes had been started by PG&E, in conjunction with the Rothschilds, using a space laser, in order to clear room for a high-speed rail project. Here is Greene's entire post, via Media Matters:
Did you get all that? No? Neither did I. Really, it's one of the most PATRIOTICALLY INSANE things ever written by a member of Congress. In fact, while we can debate the legal grounds for expulsion from the House of Representatives, which many Dems have called for, there can really be NO DEBATE that these views rise to the level of making Marjorie Taylor Greene an EXTREME DANGER to the AMERICAN PEOPLE! She certainly, has no BUSINESS BEING IN CONGRESS! She needs to be in a MENTAL HOSPITAL!
WHICH IS WHY I SUPPORT HER!
You see, as a TRUMP SUPPORTER, like GameStop stock, my entire connection with facts & reality has been COMPLETELY severed. I no longer live on this plane of existence. I am purely what I and others imagine myself to be! In the FANTASY WORLD I inhabit, again, as an avowed TRUMP SUPPORTER, all of the PROVABLY FALSE things Marjorie Taylor Greene has said are true! TRUE, BECAUSE THEY ARE FALSE, you see! It doesn't have to make sense, it just has to keep reinforcing the INFINITE FEEDBACK loop of the Republican Party, like buying a stock makes a stock a good buy! CAPITALISM! If everything Trump and the GOP do is good, then everything bad is good; and, if everything bad is good, everything false must also be true! Then, in this ALTERNATE REALITY OF TRUMP AND GOP ALTERNATIVE FACTS, Marjorie Taylor Greene is not the greatest threat to America, she is our greatest asset. We are no longer bound by the constraints of TRUTH in OUR PARTY, and in OUR COUNTRY, sir! WE ARE THE JEWISH SPACE LASER OF POLITICAL PARTIES! RACIST, ANTI-SEMITIC, ONLY MAKING SENSE INSIDE OUR OWN MINDS, AND THE GREATEST THREAT TO THE PLANET EARTH IN EXISTENCE! WE ARE PATRIOTS!
And, Republican House Leader Kevin McCarthy feels the same way. He's not listening to those stupid Democrats who think Marjorie Taylor Greene is a threat, just because she is threatening our country and her fellow members of Congress. McCarthy knows that Marjorie Taylor Greene IS THE GOP! AND, WE COULD LEARN A THING OR TWO FROM HER INSANITY. That's why the GOP PUT HER ON THE EDUCATION COMMITTEE!!!!!!!!!!!!!!!!!!!! (ARE YOU F***ING KIDDING ME? THIS CAN'T BE REAL LIFE! IS IT? ARE YOU SURE? DID I GET HIT IN THE HEAD!?!?!?! THE EDUCATION COMMITTEE?!?!?!)
CRAZY NANCY had a typically crazy response to this TOTALLY SANE MOVE by the GOP to put the school shooting truther on the education committee!
"Assigning her to the Education Committee when she has mocked the killing of little children at Sandy Hook Elementary School, when she has mocked the killing of teenagers in high school at the Marjory Stoneman Douglas high school — what could they be thinking? Or is thinking too generous a word for what they might be doing?"

'CRAZY' Nancy Pelosi
Very generous, Nancy!
And, THE GOP totally knew Marjorie Taylor Greene was TOTALLY CRAZY a long time ago, but Kevin McCarthy, "did little to stop her," Axios reports. According to Greene's LOSER primary opponent John Cowan, LOSER, "Everybody was well aware of her previous persona and who she is. I would say they all knew she was going to be a problem… Maybe they just assumed that the awe of winning an election would calm her down a little bit, and so she would actually be interested in governing and be interested in policy, and she's just clearly not. She is literally there for a stage production."
HEY JOHN, YOU KNOW WHAT THEY SAY, CRAZY TALKS AND SANITY WALKS IN THE GOP! SO WHY ARE YOU IN IT?
But CoMpLeTe SaNiTy talks, too. Because Republican Leader Kevin McCarthy has a solution to Marjorie Taylor Greene's "deeply disturbing" and PATRIOTIC belief that everything she can see with her eyes is FAKE, Democrats need to be SHOT, and JEWISH SPACE LASERS are real.
"These comments are deeply disturbing and Leader McCarthy plans to have a conversation with the Congresswoman about them," spokesman Mark Bednar told CNN.

CNN (Clinton News Network)
CONVERSATION! Right. I'm sure that'll fix everything, because everyone knows when you run into a CRAZY TRUMP SUPPORTER, a good, fact based conversation usually changes their mind.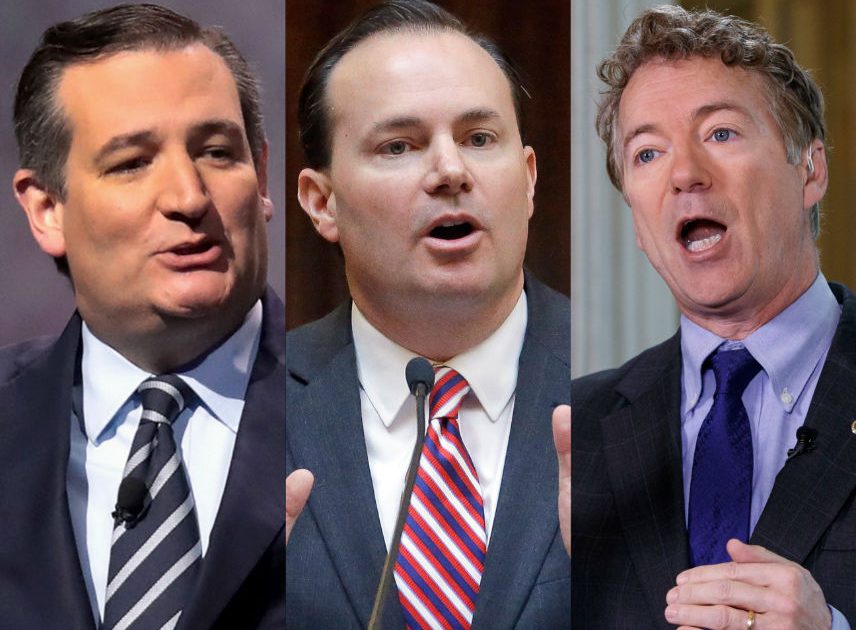 PATRIOTS, for nine months, Americans have been suffering, struggling to pay rent, pay for food, and pay for pretty much anything that isn't free. But fear not, AMERICAN SUBJECTS, because heroic Republicans are here to help (finally)! After nine months of blocking passage of a Democratic bill that would have offered much-needed relief to suffering Americans, we've seen a TRUE GREAT CONJUNCTION, a once-in-800-year-event, and Republican Senators are BACK IN WASHINGTON AGAIN, to vote against much-needed relief!
Merry Christmas!
The COMMUNISTS behind the new WEALTH STEAL BILL want to take $600 out of the JOB CREATOR'S pocket and send it to every long-suffering American whose lives have been upended by Republicans' pro-pandemic policies, when those Americans have ONLY been suffering for nine months! TALK ABOUT LEFTIST ECONOMIC POLICY! Why don't we just take some of that money that should go to the rich and give it to the poor? I mean (laughs nervously while waiting for everyone to agree with me). . . it's just. . . so ridiculous.
Six Republican Senate PATRIOTS knew that this LIBERAL LEFTIST HANDOUT crafted by Republican Leader Mitch McConnell was far too generous to WELFARE QUEENS like the 20% of American adults who can't afford to feed their children. So those CONSERVATIVE HEROES, who have heroically supported President Trump's 4-year struggle to reach RECORD deficit levels–Senators Marsha Blackburn of Tennessee, Ted Cruz of Texas, Ron Johnson of Wisconsin, Mike Lee of Utah, Rand Paul of Kentucky and Rick Scott of Florida–voted "HELL NO" on this OVERLY-GENEROUS, LEFTIST handout of $600 to every American.
SIX HUNDRED DOLLARS?! That's a whopping $20 for every week of suffering since the first CARES Act was signed by President T on March 27! Why don't we just give every American healthcare while we're at it? Why don't we just give everyone the Taj Mahal for CHRISTmas?
If these WELFARE QUEENS can't live on $20 a week, maybe they need to get a job as a Wall Street Executive so they can learn something about FINANCE!
Unfortunately, Patriots, the bill passed the Senate 92 to 6, and so now, it's up to PRESIDENT Donald Trump to stop it with a veto! Something he doesn't seem to want to do, but just give it some time, because he usually comes through and does what's worst for the American people. Have faith, PATRIOTS!
Meanwhile, those Republican heroes who opposed the massive $600 COMMIE WAGE, as I call it, stood up to the fact that millions are unable to afford food, by pointing out some TRUE fake lies about the bill! Trump supporters around the internet are pushing the president to VETO the bill based on the ALTERNATIVE FACT that the bill contains billions of dollars for FOREIGN countries like Israel and Egypt, and LIBERAL priorities like the KENNEDY CENTER! And just because that claim wasn't in any way TRUE, lib-o-crats got IMMEDIATELY TRIGGERED by this attempt to torpedo their $600 GOLDEN GOOSE!
It doesn't matter if my opposition is real or not, if this bill is going to give even a sliver of financial help to Americans while Donald J(ust trying to kill every American citizen) Trump is still MY PRESIDENT, he MUST VETO!!!!!!
GET ON THE TRUMP TRAIN, PATRIOTS, and OPPOSE THAT MEASLEY $600 CHECK. Let's get a BIGGER STIMULUS check, just like the one MY PRESIDENT Donald Trump opposed in July along with the more generous COVID relief bill that would have included things like, oh, let's see, more generous unemployment benefits for struggling Americans. Wait, I'm confused. . . what exactly do I stand for as a REAL PATRIOT? I'm against the $600 check, but I'm also against the more generous bill because PRESIDENT T opposed it, but he agreed with the Republicans who I'm also against because they supported the $600 bill. My head hurts!
As a PATRIOT, what the f*** do I support?
Oh, I think I figured it out!
We will not be satisfied until we get what we really want: NOTHING. NOTHING OR NOTHING, LIBS! Your choice.
Meanwhile, let's make sure we, as TRUE REPUBLICAN PATRIOTS keep CONSERVATIVE politicians in office. People like Republican Senator Joni Ernst of Iowa, who claimed a few months ago that the EVIL doctors and nurses risking their lives at hospitals were FALSIFYING death certificates in order to inflate COVID statistics! Yesterday, Sen. Ernst did what any good PATRIOT would do and jumped ahead of those healthcare workers in the line to get the life-saving vaccine for the virus she helped spread through false conspiracy theories! If those aren't REPUBLICAN VALUES, I don't know what are!
Also getting the REAL VACCINE to the FAKE HOAX VIRUS they helped PATRIOTICALLY SPREAD were heroes like Lindsey Graham, and Marco Rubio, who isn't even old enough to fall into a high-risk category but HEROICALLY TOOK ONE FOR THE TEAM and got the life-saving vaccine so one of those EVIL, LYING FIRST RESPONDERS could learn about HARD WORK, RESPONSIBILITY, and pulling their immune system up by its own bootstraps, or something. I don't know!
The point is, the THIN RED LINE of Republicans in Congress is the only thing stopping America from becoming a real "shithole" country! Right?
RIGHT?!?!?!?!?
Follow Truthmissiles on Twitter here.
Note: This post comes with TruthSound. Play the TruthSound while reading for the full Truthperience:
Mark this day down, sheeple. November 20, 2014. The day AMERICA died. Continue reading →