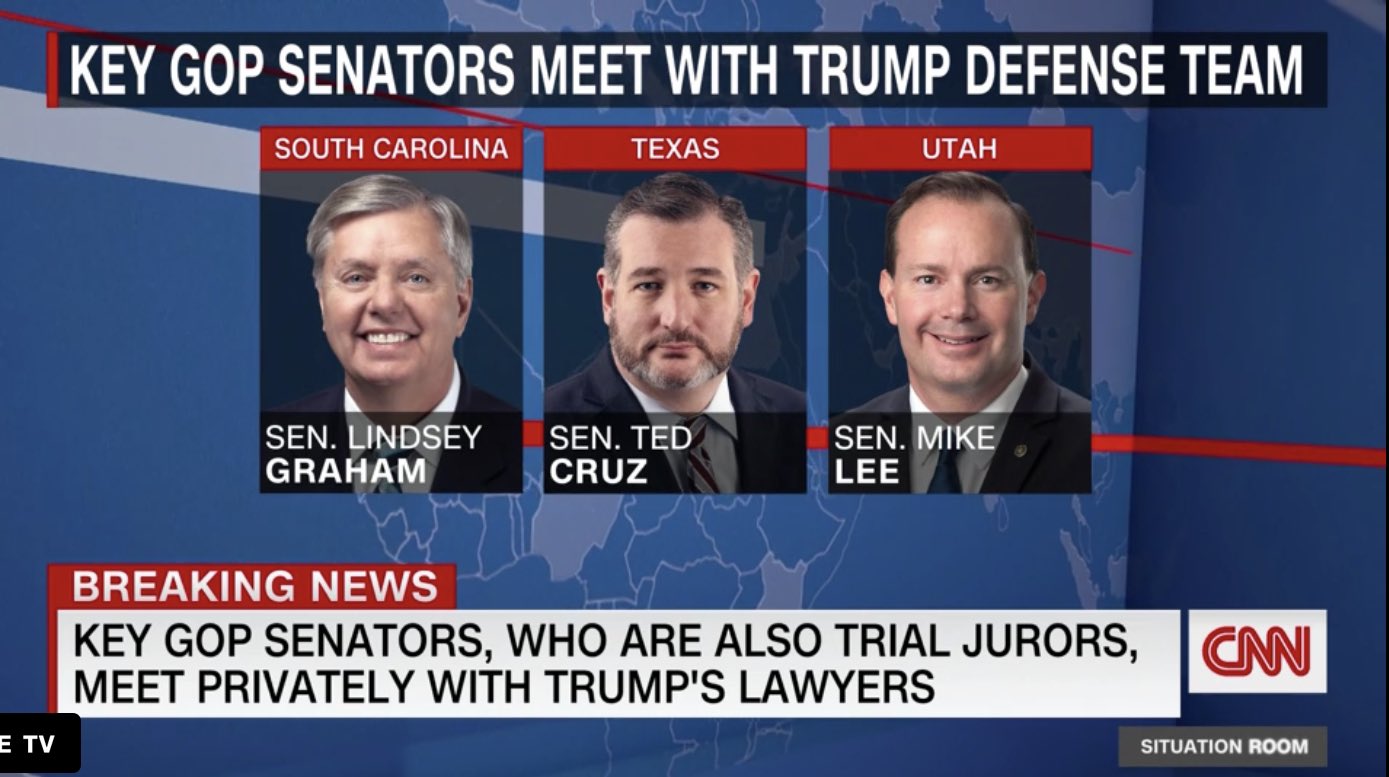 PATRIOTS, there's nothing I hate more than a RIGGED SYSTEM! That's why I supported TRUMP supporters' PATRIOTIC efforts to overthrow the government and end democracy. Because the system was rigged! The election was rigged against TRUMP! Democrats are trying to impeach TRUMP because they don't understand that RIGGED THINGS ARE BAD! TRUMP IS GOOD! And that's why I totally support the GOP'S effort to RIG the impeachment trial FOR TRUMP!
You see, RIGGING is BAD, unless you're RIGGING FOR TRUMP! That's just being fair!
So, let us RIG THIS F***ING SYSTEM LIKE IT'S NEVER BEEN RIGGED BEFORE! TO STOP THE STEAL!
TO STEAL THE STOPPING OF THE STEAL!
And 3 Republican Senators are doing their PATRIOTIC AMERICAN part to rig the case of TRUMP v. AMERICA in favor of Trump and against America. These three SENATE HEROES are going to serve as the jurors who will deliver a verdict in this impeachment case, and while many of them did not have precious time to listen to the EVIL, factual arguments made against TRUMP by the prosecution in this case, these IMPARTIAL, PATRIOTIC JURORS did have time for a 70 MINUTE LONG MEETING WITH THE TRUMP DEFENSE LAWYERS to discuss "'sharing our thoughts' about their legal strategy," CNN reports.
Sens. Lindsey Graham of South Carolina, Ted Cruz of Texas and Mike Lee of Utah were spotted going into a room in the US Capitol that Trump's lawyers were using to prepare for their arguments.

Trump lawyer David Schoen said that the senators were "very friendly guys" who just wanted to make sure they were "familiar with procedure" on the eve of their rebuttal to the House impeachment managers' presentation.

When asked if it's appropriate to meet with senators during the trial, Schoen said, "Oh yeah, I think that's the practice of impeachment."

"There's nothing about this thing that has any semblance of due process whatsoever," he added.

CNN (CLINTON (FAKE) NEWS NETWORK)
Yes, there's "no semblance of due process whatsoever" in this trial, AND THAT'S JUST HOW REPUBLICANS LIKE IT, because that's the only way that the president who incited a mob to try to kill the Vice President and Speaker of the House WILL GET AWAY WITH HIS CRIMES!
GOP, WE LOVE CRIMES! And, we also love a jury that will VOLUNTARILY TAMPER WITH ITSELF! Now that's what I call integrity. These CONSERVATIVE HEROES have so much f***ing integrity that they willingly go on TV and tell the American people that the entire trial of TRUMP is a TOTAL SHAM because the Republican senators on the jury are also HELPING THE DEFENSE strategize on how to get away with its crimes. That's even more astonishing, because the crime the defense is accused of is LITERALLY TRYING TO MURDER the jury! Dang!
That's some next level BOOTLICKING!
I hope Trump rewards these ASS-KISSERS with another attempt to incite a riot against them! They deserve it!
And you know it was a PERFECTLY INNOCENT meeting between a guilty defendant's legal team and the JURORS that they need to help them PATRIOTICALLY RIG the case, because just look how eager Senator Lindsey Graham is to share what was discussed in this perfectly SANE and RIGHT meeting that he participated in with the TRUMP LAWYERS!
Just LOOK AT THE SPEED at which he ran from those questions! EVERYTHING'S ON THE UP AND UP HERE! NOTHING TO SEE!
Now, of course, SOME STUPID LIBS were TRIGGERED by Republican Senators' total refusal to protect their own branch of government from a violent, anti-democratic attack, but that's just because LIBS, like all EVIL LEFTISTS are STUPID!
Sorry, LEFTISTS, but you're STUPID. Does the jury agree?
Case closed, LIBS!
But, just in case that doesn't sway your little PEA BRAINS, here's some straight shootin' from ol' TEXAS LYIN' TED! He's rustlin' up some facts for FAKE NEWS CNN!
When asked if he's now comfortable with the Trump team's legal strategy, Cruz said, "I think the end result of this impeachment trial is crystal clear to everybody."

"Donald Trump will be acquitted," he added. "It takes 67 votes to convict him and every person in the Senate chamber understands that there are not the votes to convict, nor should there be."

(FAKE FALSE STUPID LAME) CNN
"And if there's one thing that could change anyone's mind, it's LITERALLY ANY OF THE EVIDENCE," Lyin' Ted (probably) added, "which is why I'm going to go in a room and shove my huge, potato-shaped head right up TRUMP'S ass for the next 70 minutes to make sure I don't hear any of it."
THANKS FOR DEFENDING THE CONSTITUTION, LYIN' TED, LINDSEY GRAHAM, AND MIKE LEE! You three stand for nothing, just the way TRUMP likes it!
PATRIOTS, there's nothing we TRUMP-FLUFFERS love more than a good BOTH-SIDES-ing! I nearly blew my pants off when TRUMP said in 2017 that there were "very fine people on both sides" of the WHITE SUPREMACIST NAZI mob that heroically terrorized Charlottesville, VA, and killed one woman, and I didn't think anything could TOP that. Well, I was wrong, because Republican Representative Ken Buck (R-CO) TOPPED that BIGLY this morning on CNN! So BIGLY tHaT i CrEaMeD mY tRuMp FlAg!
Ken Buck fact-f***ed CNN's lib-hard host back to lib-o-stan when he reminded him that "both sides are at fault" for the mob violence and coup attempt that the president incited at the Capitol Building last week, in response to Democracy's VERY UNFAIR treatment of the PRESIDENT.
"To say that there's one speech or one incident that caused this group of people to storm the Capitol is just not accurate. What I'm trying to suggest to you is that both sides are at fault and that in America, we need to be very careful of the words we use."

Rep. Ken Buck (R-CO)
Buck's TRUTHSTORM triggered Clinton News Network host John Berman, who couldn't believe Buck–himself a potential target of the president's violent, pre-meditated attack on Democracy–would suggest that Democrats were to blame. Berman SNOWFLAKED so hard while he asked Buck to justify his PATRIOTICALLY INSANE remarks, simply because they made NO SENSE, and BUCK responded by Trump, Trump, Trumping Berman right up the TRUTH HOLE, reducing him to a screaming puddle of leftist tears! MAGA (Make America Grieve Again), baby! "What did the other side do?" Buck asked incredulously. "You're asking me what Democrats have done to make the MAGA crowd mad?"
What a STUPIDLY intelligent question!
Berman didn't allow BUCK to FINISH HIS BIG LIE, so I'll do it for him.
THE DEMOCRATS COUNTED THE VOTES! THE DEMOCRATS DIDN'T LIE TO THE AMERICAN PEOPLE! THE DEMOCRATS TOLD TRUMP SUPPORTERS THAT TRUMP LOST, JUST BECAUSE HE DID! THEY DIDN'T JOIN THE CRUZ-HAWLEY-BROOKS DENIAL & FASCISM CAUCUS TO OVERTHROW THE GOVERNMENT! And for these TREASONOUS CRIMES AGAINST TRUMP, I SAY…
HANG 'EM HIGH!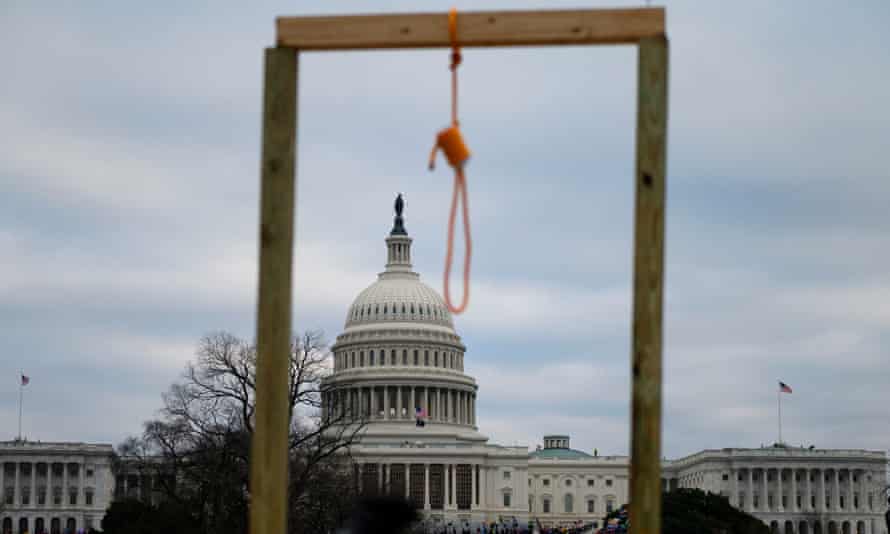 And I've been doing some research, PATRIOTS. Turns out American history is littered with SNOWFLAKES who loved their precious Democracy more than terrorism-installed PATRIOTIC fascism for TRUMP. Jefferson, Washington, Adams–these are just some of the VILLAINS OF AMERICAN HISTORY who should have been hung for trying to BRAINWASH THE AMERICAN people with the EVILS of TRUTH and DEMOCRATIC ELECTIONS!
HANG EM HIGH! Dig up their corpses, and string them up! They must be punished, just like those who stand with freedom and therefore against TRUMP! We'Re NoT cRaZy!
BOTH SIDES ARE TO BLAME FOR THIS VIOLENCE! Sure, there might be a little blame for the TRUMP supporters and the president who plotted in advance to assassinate the Vice President and Speaker of the House during the certification of Electoral College votes, but MOST OF THE BLAME goes to the LIBERAL LEFTISTS who woke up on the morning of January 6th determined to selflessly do their duty to Democracy and America, the two BIGGEST ENEMIES of TRUMP! Sure, I guess Democracy has some value, but TRUMP is more important! TRUMP is AMERICA! TRUMP is FREEDOM! TRUMP is TRUTH!
The LEFT is the to blame!
The LEFT is to blame because sitting Republican members of Congress allegedly gave the TRUMP coup plotters "reconnaissance" tours of the Capitol building on the day before the TRUMP mob breached its walls in search of Congressional and Vice Presidential blood. BOTH SIDES!
The LEFT is to blame because the TRUMP WHITE HOUSE was reportedly in contact with the rioters as they were roaming the halls of Congress, looking for legislators to take hostage or kill. BOTH SIDES!
The LEFT is to blame because Democratic Rep. Ayanna Pressley's staff discovered that all the panic buttons in her office had been "torn out" before the coup attempt and they discovered this once the TRUMP MOB had breached the Capitol with intent to harm her. BOTH SIDES! SHAME!
The LEFT is to blame because Democratic Rep. Alexandria Ocasio-Cortez "thought [she] was going to die," at one point during the coup and siege when she had a "very close encounter" with the TRUMP supporting violent mob. "It was not an exaggeration to say that many members of the House were nearly assassinated," she added, like a LEFTIST!
The LEFT is to blame because Republican members of Congress are now refusing to submit to the metal detectors that had to be installed outside the House of Representatives' floor because one of their colleagues is publicly bragging about how she is going to continue to carry a firearm inside the Capitol in violation of D.C. law, and that same member was live tweeting Speaker Nancy Pelosi's location to the insurrectionists during the Capitol siege. BOTH SIDES!
And, yes, this just seems like a list of things REPUBLICANS have selfishly done to, at best, endanger our government, and at worst, willingly commit insurrection and participate in a coup attempt for TRUMP, but make no mistake, this attempt to kill Democratic members of Congress and prevent a duly elected Democrat from being sworn in as president is the FAULT OF BOTH SIDES!
WHY?
ASSHOLE KEN BUCK SAYS SO! THAT'S WHY!
WHY DOES HE SAY SO?
I DON'T KNOW WHY! MAYBE HE JUST WANTS TO SEE THE NEXT COUP SUCCEED! AnD wHaT's WrOnG wItH tHaT?
TRUMP! TRUMP! TRUMP! TRUMP! TRUMP! TRUMP!
These colors don't THINK!
Follow Truthmissiles on Twitter here.
Most politicians who lose an election choose to go out gracefully with dignity. LIKE LOSERS AND SUCKERS. Patriots, Donald Trump ISN'T GOING OUT with any dignity. HELL NO! You can have this presidency when you COME AND TAKE IT, LIBS!
Instead, The Petulant Of The United States is going down Jon Bon Jovi style: IN A BLAZE OF GLORY!
Take a look at this recap of the FEROCIOUSLY-FALSE AND PATRIOTICALLY IDIOTIC TANTRUM he just threw in his MOST IMPORTANT SPEECH EVER!
Talk about owning the LIBS! We all know there's nothing the libs hate more than LIES and Trump peppered them with every single LIE in his arsenal. It was a heroic BEATDOWN of the LIBERALLY-BIASED TRUTH.
And even the MAINSTREAM, LEFTIST MEDIA couldn't help but rave over the president's heroic performance. Just listen to the Washington Post's FIVE STAR REVIEW (Pinocchios are stars, right?)…
"It was, almost literally, a distillation of the past four weeks of rants, allegations and accusations, including countless examples of claims which have already been soundly debunked. That sudden surge of votes seen in Wisconsin, something so compelling in Trump's eyes that he brought a visual aid to demonstrate it? We dispatched that on Nov. 11: It was just the county of Milwaukee reporting its results. Whether it's more worrisome if Trump knew it had been debunked or if he didn't is up to you to determine."

The Lyin' Bezos Washington Post
Trump's speech even TRIGGERED the Dem-O-Craps over at the CNN, CLINTON NEWS NETWORK, including Fredo, AKA, Chris HOMO, who refused to air Trump's TRUTHFUL slash and burn of American democracy, because, he says, "Donald Trump is so far gone, that I cannot in good conscience play the substance of a 46-minute spiel that he spewed tonight… It is lies and ugly suggestions that have a basis in nothing but division and malice." AKA "I got TRIGGERED. Wah, wah, wah!"
And PSYCHO JOE over at MSDNC was equally TRIGGERED by Trump's Conservative attempt to liquidate democracy like he liquidated his casino's bank accounts. His guest, Mike "Crusty" Barnicle, called Trump's speech a, "mentally ill rant."
But patriots, FREEDOM (in the form of abject tyranny) is on the rise and we're not backing down simply because we have no factual ground to stand on. Trump's speech wasn't the only drunken, destructive rant of the day. Check out this BELLIGERENT PATRIOT drunkenly berating the panel of State Representatives at a Michigan hearing on the election. The woman, Melissa Carone, heroically made false claims of voter fraud, which have already been debunked, with an added slurring and incoherent twist as the star witness for the Trump legal team and Rudy Giuliani.
And while Trump and his team's destructive shenanigans continue to heroically undermine America, let no one say that Donald Trump isn't also doing a great job as president, because our national COVID crisis just saw the lowest number of deaths EVER in a single day (If by "lowest" you mean "highest".)
"A day after 2,804 Americans died in a single day from the coronavirus pandemic – almost as many as in the 11 September 2001 terrorist attacks – Donald Trump said nothing about the harrowing national crisis."

The Guardian FAKE Newspaper
Stand fast patriots! We are GREAT AGAIN!
Follow Truthmissiles on Twitter here.