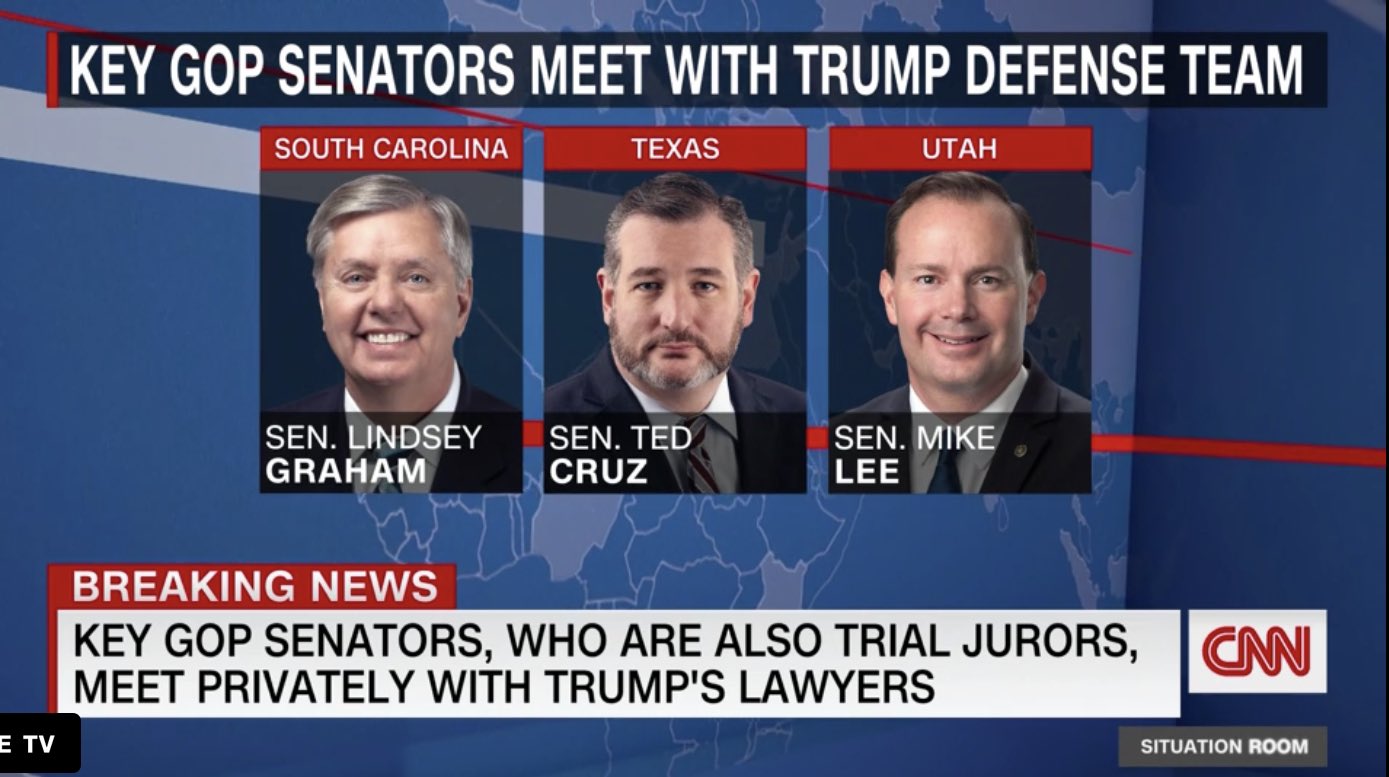 PATRIOTS, there's nothing I hate more than a RIGGED SYSTEM! That's why I supported TRUMP supporters' PATRIOTIC efforts to overthrow the government and end democracy. Because the system was rigged! The election was rigged against TRUMP! Democrats are trying to impeach TRUMP because they don't understand that RIGGED THINGS ARE BAD! TRUMP IS GOOD! And that's why I totally support the GOP'S effort to RIG the impeachment trial FOR TRUMP!
You see, RIGGING is BAD, unless you're RIGGING FOR TRUMP! That's just being fair!
So, let us RIG THIS F***ING SYSTEM LIKE IT'S NEVER BEEN RIGGED BEFORE! TO STOP THE STEAL!
TO STEAL THE STOPPING OF THE STEAL!
And 3 Republican Senators are doing their PATRIOTIC AMERICAN part to rig the case of TRUMP v. AMERICA in favor of Trump and against America. These three SENATE HEROES are going to serve as the jurors who will deliver a verdict in this impeachment case, and while many of them did not have precious time to listen to the EVIL, factual arguments made against TRUMP by the prosecution in this case, these IMPARTIAL, PATRIOTIC JURORS did have time for a 70 MINUTE LONG MEETING WITH THE TRUMP DEFENSE LAWYERS to discuss "'sharing our thoughts' about their legal strategy," CNN reports.
Sens. Lindsey Graham of South Carolina, Ted Cruz of Texas and Mike Lee of Utah were spotted going into a room in the US Capitol that Trump's lawyers were using to prepare for their arguments.

Trump lawyer David Schoen said that the senators were "very friendly guys" who just wanted to make sure they were "familiar with procedure" on the eve of their rebuttal to the House impeachment managers' presentation.

When asked if it's appropriate to meet with senators during the trial, Schoen said, "Oh yeah, I think that's the practice of impeachment."

"There's nothing about this thing that has any semblance of due process whatsoever," he added.

CNN (CLINTON (FAKE) NEWS NETWORK)
Yes, there's "no semblance of due process whatsoever" in this trial, AND THAT'S JUST HOW REPUBLICANS LIKE IT, because that's the only way that the president who incited a mob to try to kill the Vice President and Speaker of the House WILL GET AWAY WITH HIS CRIMES!
GOP, WE LOVE CRIMES! And, we also love a jury that will VOLUNTARILY TAMPER WITH ITSELF! Now that's what I call integrity. These CONSERVATIVE HEROES have so much f***ing integrity that they willingly go on TV and tell the American people that the entire trial of TRUMP is a TOTAL SHAM because the Republican senators on the jury are also HELPING THE DEFENSE strategize on how to get away with its crimes. That's even more astonishing, because the crime the defense is accused of is LITERALLY TRYING TO MURDER the jury! Dang!
That's some next level BOOTLICKING!
I hope Trump rewards these ASS-KISSERS with another attempt to incite a riot against them! They deserve it!
And you know it was a PERFECTLY INNOCENT meeting between a guilty defendant's legal team and the JURORS that they need to help them PATRIOTICALLY RIG the case, because just look how eager Senator Lindsey Graham is to share what was discussed in this perfectly SANE and RIGHT meeting that he participated in with the TRUMP LAWYERS!
Just LOOK AT THE SPEED at which he ran from those questions! EVERYTHING'S ON THE UP AND UP HERE! NOTHING TO SEE!
Now, of course, SOME STUPID LIBS were TRIGGERED by Republican Senators' total refusal to protect their own branch of government from a violent, anti-democratic attack, but that's just because LIBS, like all EVIL LEFTISTS are STUPID!
Sorry, LEFTISTS, but you're STUPID. Does the jury agree?
Case closed, LIBS!
But, just in case that doesn't sway your little PEA BRAINS, here's some straight shootin' from ol' TEXAS LYIN' TED! He's rustlin' up some facts for FAKE NEWS CNN!
When asked if he's now comfortable with the Trump team's legal strategy, Cruz said, "I think the end result of this impeachment trial is crystal clear to everybody."

"Donald Trump will be acquitted," he added. "It takes 67 votes to convict him and every person in the Senate chamber understands that there are not the votes to convict, nor should there be."

(FAKE FALSE STUPID LAME) CNN
"And if there's one thing that could change anyone's mind, it's LITERALLY ANY OF THE EVIDENCE," Lyin' Ted (probably) added, "which is why I'm going to go in a room and shove my huge, potato-shaped head right up TRUMP'S ass for the next 70 minutes to make sure I don't hear any of it."
THANKS FOR DEFENDING THE CONSTITUTION, LYIN' TED, LINDSEY GRAHAM, AND MIKE LEE! You three stand for nothing, just the way TRUMP likes it!
PATRIOTS, no PATRIOT has fought harder against the EVILS of FREEDOM than Mike Lindell, CEO of My Pillow, "The World's Shittiest Pillow,"TM and recent proponent of MARTIAL LAW to overthrow the U.S. Government. If that's not American, than call me a terrorist! That's why it's SO INCREDIBLY ORWELLIAN that Twitter has decided to PERMANENTLY BAN the My Pillow man from its platform. What did he do? Apparently, he "alleged that the voting machine companies Smartmatic and Dominion Voting Systems were part of a conspiracy to rig the election against Trump," according to reports. Big deal! It's not like that PROVEN, REPEATED LIE ever killed anybody! What's that? It killed five people? Big deal! They were probably LEFTISTS, anyway!
It's NOT FAIR that private companies are banning bad faith actors who continually push lies for profit while attacking the fragile peace that sustains our politically-divided society! It's NOT FAIR because those people REALLY WANT TO PROFIT from the downfall of America! If Mike Lindell can't profit from selling the PROVEN LIE that Donald Trump won the election, if not for an elaborate conspiracy involving the makers of voting machines, local election officials, state-level Republicans, and the long-dead leader of Venezuela, what is he going to PROFIT FROM? Selling shitty pillows? Selling poisonous plants as a miracle cure for COVID-19? Yes, he did that. And, no, it did not turn out to be a miracle cure, but it was slightly healthier than drinking bleach. MAGA!
These lies never hurt anybody! Did they? I don't know. Probably. Probably a lot of people, actually. Hmm. But PATRIOTS, the PERSECUTION OF THE PILLOW MAN raises a larger question about American society, namely, do we really want to be the kind of country that allows private companies to silence CONSERVATIVE VOICES just because they refuse to stop intentionally spouting dangerous, destructive, murderous LIES? I think not! That's ORWELLIAN, just like it was ORWELLIAN that pro-terrorist Republican Senator Josh Hawley briefly lost his book deal for two weeks because he incited terrorism. TERRORISM AND BOOK DEALS FOR EVERYONE! FINANCED BY THE GOVERNMENT! THAT'S WHAT I CALL FREE MARKET!
The FREE MARKET decides things in this country, and the FREE MARKET should decide that the My Pillow man's LIES, the LIES I LIKE, must be spread to ALL by a private platform called Twitter, and if the FREE MARKET decides it doesn't want to do that, THAN THE GOVERNMENT SHOULD MAKE IT DO THAT! That's called Trumpism!
PATRIOTS, America is sick, and the only cure is to just let all the LUNATICS RUN THE ASYLUM! And WHITE OLEANDER EXTRACT! Why not let a former cocaine addict who now sells cheap pillows organize a domestic paramilitary operation AND PROVIDE GREAT HEALTHCARE SOLUTIONS? Why not also let this man tell us who really won presidential elections based on nothing more than the feelings in his gut? Why not let Representatives bring guns and ammunition to the house floor? As long as they really believe those guns are actually candy canes, who's to tell them they aren't? It's called FIRST AMENDMENT! Why not let the people who lOvE tHe FrEe MaRkEt So MuCh force businesses like Twitter to make ONLY the decisions THEY SUPPORT, until ALL AMERICANS are forced to suffer the daily FEAR of incitement of domestic TERROR FOR TRUMP, and attacks on the Capitol following every election the PROVEN LIARS say was fraudulent?
Because that threatens the safety of every American? F*** it! I don't care! I care about MY FREEDOM, not YOUR FREEDOM!
CANCEL THE CANCEL CULTURE! LET THE LIES FLOW!
Speaking of which, let's all buy a My Pillow to support the latest VICTIM of his own stupidity. Buy TWO! Buy yours here!
PATRIOTS, I've spent the last 24 hours making piss-poor excuses for our PATRIOTIC assault on our nation's capitol and defending our right to PROUDLY COMMIT SEDITION, but the time has come to STOP PULLING OUR PUNCHES and speak the truth. No, not the FACTUAL TRUTH promoted by the liberal conspiracy known as "reality." I'm talking about REAL, GUT-LEVEL TRUTH. The truth that just came to LIGHT! The FAKE TRUTH! The truth that the thousands of anti-America terrorists who assaulted the U.S. Capitol building demanding that Trump be installed as dictator of THESE FREE UNITED STATES were actually COVERT OPERATIVES of the IMAGINARY LEFTIST ORGANIZATION KNOWN AS ANTIFA!
Republican PRO-AMERICA TERRORIST MATT GAETZ got it right when he returned to the House of Representatives last night after being forced into hiding for five hours by these TRUMP-FLAG-WAVING LEFTISTS whose sedition killed four Americans in their VIOLENT COUP ATTEMPT.
LISTEN AND HEAR, SHEEPLE!
"The Washington Times has just reported some pretty compelling evidence from a facial recognition company showing that some of the people who breached the capitol today were not Trump supporters. They were masquerading as Trump supporters and, in fact, were members of the violent terrorist group ANTIFA."

PRO-TERRORIST PATRIOT MATT GAETZ
ANTIFA! The sane, rational, fact-loving supporters of Donald Trump would never engage in the terrorist acts we saw on Capitol Hill! Trump supporters are always calm and respectful! Evidence shows THAT THIS WAS ANTIFA!
PATRIOTS, this PRO-DEMOCRACY CONSPIRACY against Trump is SO BIG that the company that allegedly produced the only evidence for it maintains that the entire conspiracy theory is "outright false." The facial recognition company that Matt Gaetz and The Washington Times reported on never even made any such claims! They say the claims are "outright false, misleading, and defamatory." My head hurts!
So, PATRIOTS, there are only two options. Option #1: Matt Gaetz and The Washington Times are KNOWING LIARS who seek the collapse of the U.S. Government so that their FASCIST PRINCE Donald Trump can seize control of the country by force. Or, Option #2: Despite there being no evidence it was ANTIFA, it really was ANTIFA who stormed the U.S. Capitol RIGHT AFTER Donald Trump ordered and incited his own supporters to storm the capitol.
I know OPTION #2 sounds A LOT MORE PLAUSIBLE TO ME!
After all, DOES THIS REALLY LOOK LIKE A BUNCH OF TRUMP SUPPORTERS TO YOU?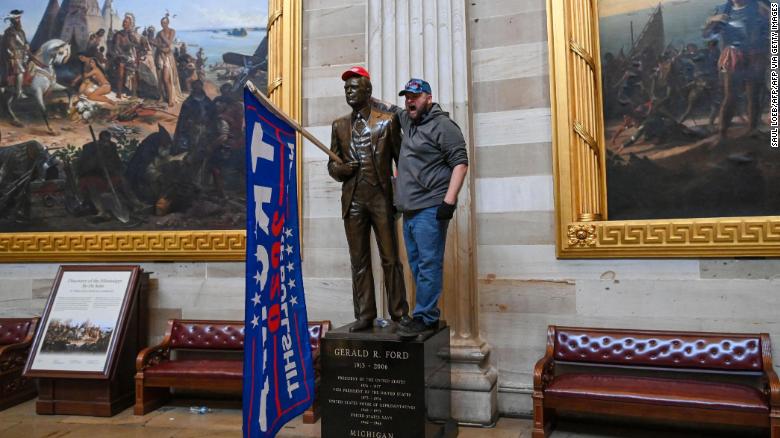 White people. Trump flags. No black people in sight. Viking hats. Neck beards. Trump hats. Cops taking selfies with the rioters. No masks. Confederate flags.
These are the HALLMARKS OF ANTIFA!
SHUT UP FAKE YORK TIMES! We don't need your liberally biased reality! It was ANTIFA and you know it! You SHUT UP RIGHT NOW, LEFTIST SCUM! If you don't shut up, we'll storm the Capitol and BURN! THIS! WHOLE! MUTHER! FUCKING! COUNTRY! TO! THE! GROUND!
WE DON'T CARE! WE'LL DO IT!
STOP THE STEAL!
TRUMP! TRUMP! TRUMP! Q!
Whew. Sorry. ANTIFA just took over my fingers for a second and tried to frame me as a violent lunatic. Gotta tighten up that tin-foil hat.
Patriots, Trump support is about love. Love and peace. ANTIFA is about destroying democracy, by violent, extra-judicial actions (like counting legally cast, Dim-o-cratic votes).
ANTIFA is trying so hard to make Trump supporters look bad that its members also dressed up as Nazis to try to sully the good name of the destructive, pro-Trump riot. Fake ANTIFA Proud Boys wore slogans endorsing the extermination of Jewish people, something Trump supporters would clearly never endorse. Right?
Don't say Charlottesville! ANTIFA would say Charlottesville right now!
The LEFT wants you to believe that ALL TRUMP supporters are anti-American lunatics who are lost in their own mindless support of a dictator and who seek to overthrow Democracy because they didn't get what they wanted on Election Day. RESIST IT, PATRIOTS!
WE, PATRIOTS, ARE NOT WHO WE APPEAR TO BE! We love this country above all else! We love freedom and democracy! We seek the truth! We have compassion! We value Christian values!
Don't let VIDEO EVIDENCE convince you that the TRUMP MOVEMENT is a DERANGED, ANTI-AMERICAN COUP against everything our country represents! THE VIDEO IS ANTIFA! Don't let violent terrorists dressed as TRUMP supporters convince you that TRUMP support now means supporting violent terrorism! The terrorists are ANTIFA. ANTIFA NEWS! ANTIFA NEWS! Don't let the resignation of top officials in the Trump government in protest of the president's support for this coup convince you that the people who know Trump best know he is an insane man who doesn't love this country. Those officials are ANTIFA! Don't let the president's own words saying he "loves" the terrorists who assaulted the peaceful transition of power in the U.S. convince you that the president "loves" terrorists! His words are ANTIFA!
REMEMBER, PATRIOTS, we can do whatever we want, and there will NEVER BE CONSEQUENCE. We can, and should, as TRAITOROUS SCUM Mitt Romney so eloquently put it last night, "weigh our own political fortunes more heavily than we weigh the strength of our republic."
No matter how badly we behave, no matter how much violence, and death and destruction our tribe of TRUMP-SUPPORTING freedom haters inflicts, we must always remember, "We have met the enemy, AND THE ENEMY IS ANTIFA!!!!!!" The enemy is not us!
ANTI-DEMOCRACY PATRIOT TUCKER CARLSON of Fox News summed the day up in the wake of the death and destruction that the president he and all America-loving Republicans still support, when he told TRUMP supporters the REAL truth.
"If you don't bother to pause and learn a single thing from it, from your citizens storming your Capitol Building, then you're a fool. You lack wisdom and you lack self-awareness. You have no place running a country. We got to this sad chaotic day for a reason. It is not your fault. It is their fault."

TUCKER "NOT-YET-AN-ANTIFA" CARLSON
We are not missing the point! ANTIFA is missing the point!
Follow Truthmissiles on Twitter here.