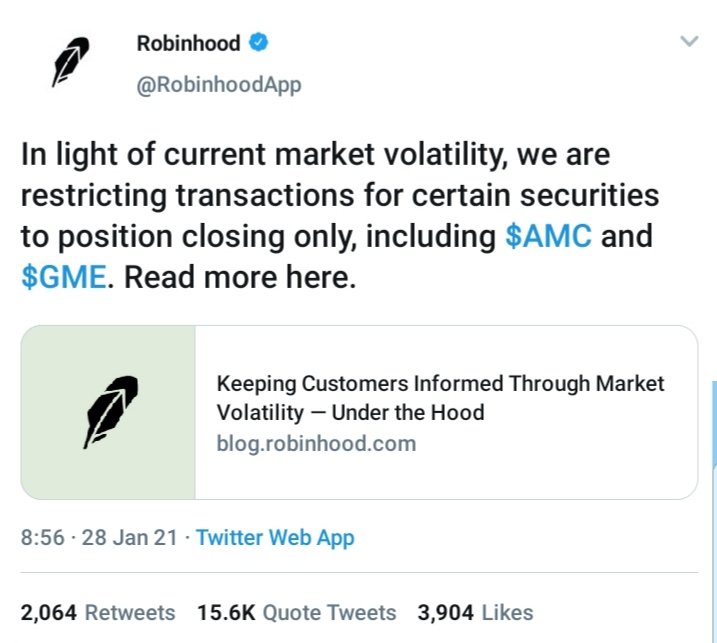 PATRIOTS, in the last 24 hours I've gone from KNOWING ABSOLUTELY NOTHING about the stock market to BEING A CERTIFIED EXPERT (certified by myself and Trump University only) and in that time, I've come to really ROOT FOR these people who are manipulating the market. No, I'm not talking about the REGULAR PEOPLE who wisely exploited the greed of the wealthy hedge fund managers to make about $5 billion dollars in the last few days. I'm talking about the LITTLE GUY, the hedge fund manager, the greedy, Wall Street corporate raider who everyday puts billions of dollars of other people's money ON THE LINE, just so he can come home to put food on the table for his family on their yacht! Well, today, THE LITTLE GUYS FINALLY WON! They took THEIR BLOODMONEY back from the REGULAR PEOPLE who STOLE IT FAIR AND SQUARE.
You see, recently, the Robinhood stock trading app allowed millions of ordinary people to outsmart the wealthy, powerful FAT CATS of Wall Street by buying up stocks that the FAT CATS had irresponsibly and possibly illegally shorted (a complicated term that's too complicated for you, peasants). The FAT CATS reportedly LOST $5 billion dollars. Yep, they really had those FAT CATS over a barrel… until today, when the FAT CATS were bailed out by some apparently illegal HEROICS by… yep, you guessed it, Robinhood! Robinhood said they were going to STOP SELLING CERTAIN STOCKS, which is a totally NORMAL thing for a brokerage to do, DEFINITELY NOT (NOT) ILLEGAL, and they just happened to stop selling all the SAME STOCKS that regular people were making a lot of money off of. And wouldn't you know it, Robinhood is actually RUN BY THE FAT CATS!
In the process, AVERAGE JOE GREEDYPACK lost everything he'd earned fair and square, LIKE A COMMUNIST!
Turns out, when you make too much money on Wall Street but you live on Main Street, your own stock broker who claims to be on your side will step in and say, "Hey man, you're making too much money, so for your own protection, I'm going to turn off your money hose and give some of your money back to the rich people that had it yesterday!" As a CONSERVATIVE PATRIOT, I couldn't be HAPPIER ABOUT THIS!
You see, over the last FOUR years, I've come to fully support and endorse FASCISM, and I'm proud to say, that's what this appears to be. FASCISM! PATRIOTIC AND UNILATERAL! And, why wouldn't we have expected TRADING OF VALUABLE STOCKS TO BE UNILATERALLY STOPPED by the firm whose motto is, quite truly, "LET THE PEOPLE TRADE"? And, by "trade," they of course mean, "restricting transactions for certain securities to position closing only." And by that, they mean, "making sure the reckless hedge funds that own us make more money than our customers."
And by that, they mean, "doing patently illegal things because we'll never get put in jail for it." And by that, they mean, "we should probably change our name to SherrifOfNottingham."
All this can be really confusing for people who don't have DEGREES in finance and work on Wall Street, and, therefore, STUPIDLY think they have the RIGHT TO MAKE money. But, I think there's a way I can dumb it down for you, peasants. You see, you're a poor person. If you weren't a poor person anymore, than you wouldn't be poor, and who would the rich person take advantage of? It's pretty simple really.
Still too complicated? Well, let's try another example.
Say five bananas currently cost 10 dollars. One ape on the market has 5 bananas. Snake asks to borrow 5 banana's for a bit and instead sells the 5 bananas thinking price will go down soon (shorting). He thinks he can buy them later for less and give them back to ape, so he makes profit on the difference. Group of apes notice what stupid snakes are doing and decide to buy all bananas on the market until snakes have no other choice than to buy from the group of apes in order to return what they borrowed. If group of apes stay strong then a giant hedge fund will use the banana trading app that it controls to stop all transactions on the banana market until the apes stop playing UNFAIRLY and give the bananas back to the reckless snakes for FREE. Then once the snakes get back all the bananas they stupidly gave away thanks to rules that the snakes made up to benefit themselves, the government will fine the snakes ONE BANANA, and the snakes will get a MILLION MORE BANANAS FOR FREE, as their punishment for almost collapsing the banana market. This is called "How America works."
Seem unfair? Well, you should have thought of that before you were born poor, COMMIE!