RIGGED (But In A Good Way)!!! GOP Senators HEROICALLY Conspire With Defense Lawyers To Acquit Guilty TRUMP Of Obvious Crimes!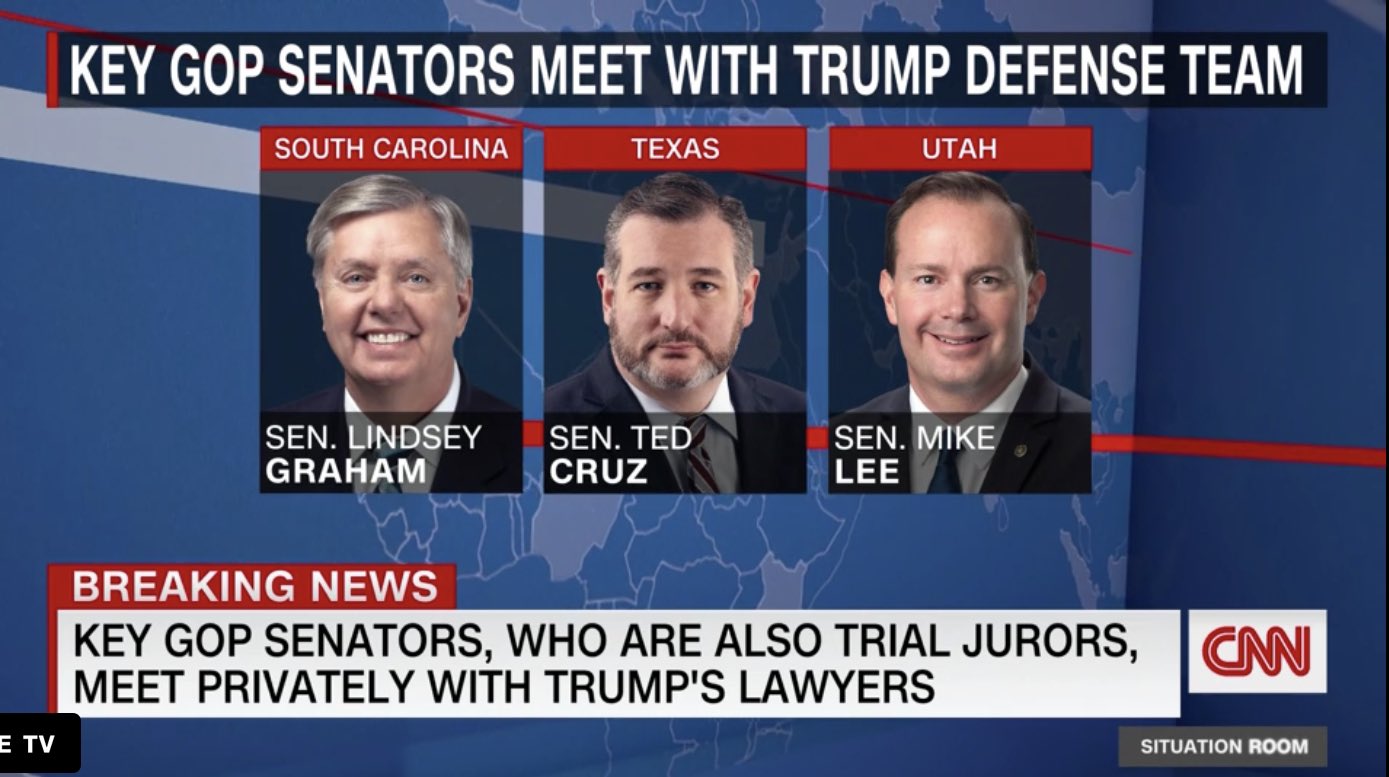 PATRIOTS, there's nothing I hate more than a RIGGED SYSTEM! That's why I supported TRUMP supporters' PATRIOTIC efforts to overthrow the government and end democracy. Because the system was rigged! The election was rigged against TRUMP! Democrats are trying to impeach TRUMP because they don't understand that RIGGED THINGS ARE BAD! TRUMP IS GOOD! And that's why I totally support the GOP'S effort to RIG the impeachment trial FOR TRUMP!
You see, RIGGING is BAD, unless you're RIGGING FOR TRUMP! That's just being fair!
So, let us RIG THIS F***ING SYSTEM LIKE IT'S NEVER BEEN RIGGED BEFORE! TO STOP THE STEAL!
TO STEAL THE STOPPING OF THE STEAL!
And 3 Republican Senators are doing their PATRIOTIC AMERICAN part to rig the case of TRUMP v. AMERICA in favor of Trump and against America. These three SENATE HEROES are going to serve as the jurors who will deliver a verdict in this impeachment case, and while many of them did not have precious time to listen to the EVIL, factual arguments made against TRUMP by the prosecution in this case, these IMPARTIAL, PATRIOTIC JURORS did have time for a 70 MINUTE LONG MEETING WITH THE TRUMP DEFENSE LAWYERS to discuss "'sharing our thoughts' about their legal strategy," CNN reports.
Sens. Lindsey Graham of South Carolina, Ted Cruz of Texas and Mike Lee of Utah were spotted going into a room in the US Capitol that Trump's lawyers were using to prepare for their arguments.

Trump lawyer David Schoen said that the senators were "very friendly guys" who just wanted to make sure they were "familiar with procedure" on the eve of their rebuttal to the House impeachment managers' presentation.

When asked if it's appropriate to meet with senators during the trial, Schoen said, "Oh yeah, I think that's the practice of impeachment."

"There's nothing about this thing that has any semblance of due process whatsoever," he added.

CNN (CLINTON (FAKE) NEWS NETWORK)
Yes, there's "no semblance of due process whatsoever" in this trial, AND THAT'S JUST HOW REPUBLICANS LIKE IT, because that's the only way that the president who incited a mob to try to kill the Vice President and Speaker of the House WILL GET AWAY WITH HIS CRIMES!
GOP, WE LOVE CRIMES! And, we also love a jury that will VOLUNTARILY TAMPER WITH ITSELF! Now that's what I call integrity. These CONSERVATIVE HEROES have so much f***ing integrity that they willingly go on TV and tell the American people that the entire trial of TRUMP is a TOTAL SHAM because the Republican senators on the jury are also HELPING THE DEFENSE strategize on how to get away with its crimes. That's even more astonishing, because the crime the defense is accused of is LITERALLY TRYING TO MURDER the jury! Dang!
That's some next level BOOTLICKING!
I hope Trump rewards these ASS-KISSERS with another attempt to incite a riot against them! They deserve it!
And you know it was a PERFECTLY INNOCENT meeting between a guilty defendant's legal team and the JURORS that they need to help them PATRIOTICALLY RIG the case, because just look how eager Senator Lindsey Graham is to share what was discussed in this perfectly SANE and RIGHT meeting that he participated in with the TRUMP LAWYERS!
Just LOOK AT THE SPEED at which he ran from those questions! EVERYTHING'S ON THE UP AND UP HERE! NOTHING TO SEE!
Now, of course, SOME STUPID LIBS were TRIGGERED by Republican Senators' total refusal to protect their own branch of government from a violent, anti-democratic attack, but that's just because LIBS, like all EVIL LEFTISTS are STUPID!
Sorry, LEFTISTS, but you're STUPID. Does the jury agree?
Case closed, LIBS!
But, just in case that doesn't sway your little PEA BRAINS, here's some straight shootin' from ol' TEXAS LYIN' TED! He's rustlin' up some facts for FAKE NEWS CNN!
When asked if he's now comfortable with the Trump team's legal strategy, Cruz said, "I think the end result of this impeachment trial is crystal clear to everybody."

"Donald Trump will be acquitted," he added. "It takes 67 votes to convict him and every person in the Senate chamber understands that there are not the votes to convict, nor should there be."

(FAKE FALSE STUPID LAME) CNN
"And if there's one thing that could change anyone's mind, it's LITERALLY ANY OF THE EVIDENCE," Lyin' Ted (probably) added, "which is why I'm going to go in a room and shove my huge, potato-shaped head right up TRUMP'S ass for the next 70 minutes to make sure I don't hear any of it."
THANKS FOR DEFENDING THE CONSTITUTION, LYIN' TED, LINDSEY GRAHAM, AND MIKE LEE! You three stand for nothing, just the way TRUMP likes it!