'Cryin' Chuck Schumer Whines About Trump's Big 'Erection' During Speech To Members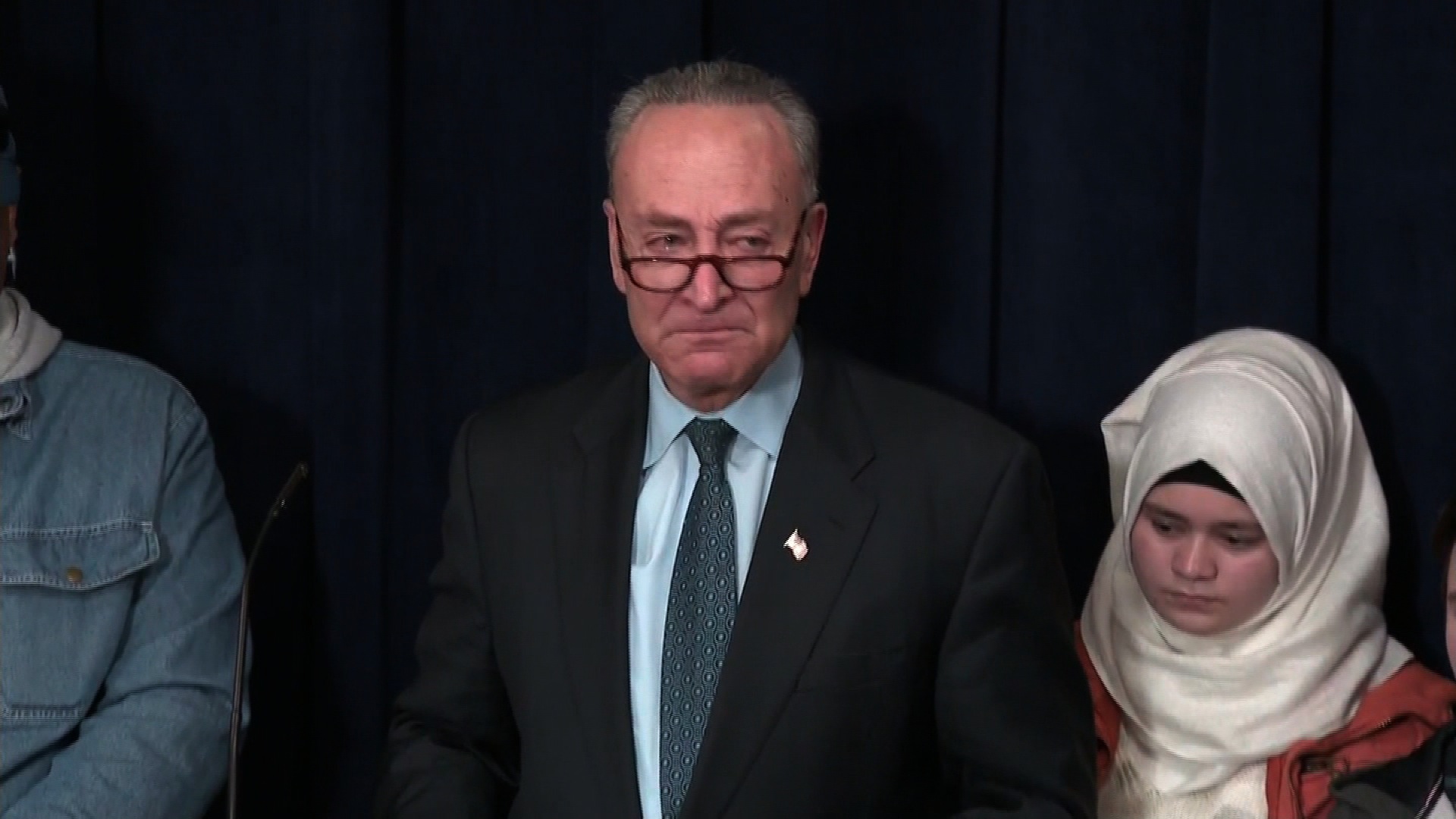 PATRIOTS, everybody knows Cryin' Chuck Schumer is a WHINY little bitch (at least everybody who read and believed the vile spew coming from President Joe Biden's PREDECSSOR'S Twitter before it was deactivated for domestic terrorism), but now Cryin' has sunk to a new low. He took to the Senate floor, the most sacred place in the U.S. Capitol, which is reserved only for democratic proceedings and crazy men dressed as vikings, to take another cheap shot at Biden's PREDECESSOR over the PREDECESSOR'S attempt to overthrow democracy. In a speech to MEMBERS, in which Schumer said the article of impeachment against the Predecessor would be delivered to the Senate on Monday, Cryin' Chuck accused Biden's PREDECESSOR of trying to incite an "erection".
HAHAHAHAAHAHAHAHHAHAH! HE SAID "ERECTION!" HE SAID "ERECTION!"
But PATRIOTS, everybody knows, when you take a shot at the KING'S WIENER, you'd better not miss! And CRYIN' missed BIGLY, because everybody knows, nobody is HARDER for FASCISM than Joe Biden's PREDECESSOR.
What's that? PREDECESSOR'S own, white-supremacist, misogynistic Nazi supporters are now calling Biden's PREDECESSOR "flaccid"?
Damn. Here's what The "FAKE" New York Times reported about the PREDECESSOR'S biggest supporters, the boys who have the least to be proud of, THE PROUD BOYS!
. . . by this week, the group's attitude toward Mr. Trump had changed. "Trump will go down as a total failure," the Proud Boys said in the same Telegram channel on Monday. . .

Last week, Nicholas Fuentes, the leader of America First, wrote in his Telegram channel that Mr. Trump's response to the Capitol rampage was "very weak and flaccid" and added, "Not the same guy that ran in 2015."

– The 'FAKE' New York Times
Damn. PREDECESSOR even lost his MOST RACIST supporters. This whole MAGA movement is starting to look like a shriveled up hot dog. Even the CRAZIEST of the CRAZIES are abandoning the PREDECESSOR TRAIN. The Q Anon CULT, which believed that PREDECESSOR'S every move was part of a massively convoluted and secret effort to expose and arrest members of a secret cabal of satanist, child-eating, pedophiles (AKA DEM-O-RATS) who run EVERYTHING in the world, IS ABANDONING THE PREDECESSOR TRAIN!
The Q-NUTS thought that on Wednesday, the Bidens, Obamas and the Clintons "would be rounded up and executed for child sex trafficking, treason and other crimes," and Trump would be inaugurated for a second term. SADLY, PATRIOTS, THEY–and we–WERE WRONG!
Like a flipped switch, the attitude inside online QAnon communities shifted from glee to shock and misery: "NOTHING FUCKING HAPPENED!!!"; "So now we have proof Q was total bullshit"; "I feel sick, disgusted and disappointed"; "Have we been duped???"; "You played us all"; "HOW COULD WE BELIEVE THIS FOR SO LONG? ARE WE ALL IDIOTS?"

– HUFFPOST (or whatever the hell that LIBERAL RAG is called now
WE ARE ALL IDIOTS! We all got F***ed by the "ERECTION" Biden's PREDECESSOR incited. Thanks, Cryin' Chuck!