Mike Pompeo TRUMPS All Over Himself, Says "Multiculturalism" Is Bad; TRUMP Admin Downplays Slavery On MLK Day
Patriots, there are so many HATEFUL HEROES of the TRUMP presidency that I could write thousands of articles about their treacherous, destructive exploits, but ONE TRUMP SYCOPHANT has risen far above the rest of the Hateful Eight-thousand, as I call them. As Secretary of State, Mike Pompeo has taken neck-guts and whatever the opposite of statesmanship is to new lows of Anti-American depravity, including being called "the worst Secretary of State ever." But he saved his best (worst) for last! On the final day of the Trump HELL-PRESIDENCY, Pompeo declared "multiculturalism," is "not who America is," adding that multiculturalism "distort[s] our glorious founding and what this country is all about." And, to top it off, he added that multiculturalism "make[s] us weaker."
Pompeo's HATESTORM of a tweet seemed to catch many LEFTISTS by surprise. What, they wondered, did Trump's Secretary of State mean with his tweet attacking "multiculturalism"? Surely, even the Secretary of State for the most racist President in the modern era wouldn't have just simply attacked the very idea of "multiculturalism" in the United States.
One LEFTIST SCUM asked, "is there a non-bigoted way to interpret the idea that 'multiculturalism' makes America weak and is not 'who America is?'
No. No there is not, you SICK, HATEFUL LEFTIST!
There was no context to Pompeo's tweet, nothing to blunt its jarring seemingly out-of-nowehere racist tone and intent. BUT, GUESS WHAT, YOU SICK, HATEFUL, DISGUSTING LEFTISTS! POMPEO MEANT EXACTLY WHAT HE SAID!
TAKE HIS WORD FOR IT!
MULTICULTURALISM BAD!!
Let me break it down for you LEFTIST SCUM out there! Pompeo, patriots, is a proud Italian-American. Very proud. Italian-American, however, is not a "multi" culture. It's a 100% AMERICAN culture. But, that's not true of every culture that exists in America today. Some cultures are more "multi" than others. Let's take for example, Mexican-American or African-American cultures. You can see very easily, reader, that while these cultures may have "American" in their names, these are not 100% AMERICAN cultures. These, patriots, are what are traditionally known as "multi" cultures. They're very obviously the cultures that "distort our glorious founding and what this country is all about," and that "make us weaker."
Still not getting the difference? Let me see if I can sum it up for you, LEFTIST, BIGOTED SCUMBAGS!
Itallian-American = American
African- and Mexican-American = NOT American
Pretty simple right? These are the ideas that Mike Pompeo and the Trump administration, in the year 2021, I shit you not, believe are "glorious" and "what this country is all about."
What's that? You still don't get it? Jesus Christ, man! You really are a SICK, HATEFUL, LEFTIST, PROGRESSIVE COMMUNIST! Here, let me see if I can make you an EVEN SIMPLER DIAGRAM…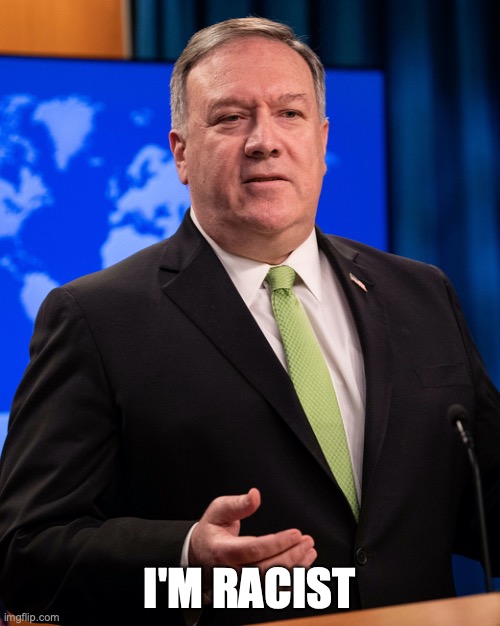 And that, patriots, is how you end up with an administration that pays millions in taxpayer money to set up a commission of MOSTLY NON-HISTORIANS to create a report NOT WRITTEN BY HISTORIANS to downplay the existence of slavery in the United States. It's how you end up with that 1776 Commission report, which claims that we should not be teaching our children that the white, slaveholding men who founded the United States ACTUALLY HAD SLAVES, and that teaching that HISTORICAL FACT, "has done enormous damage, especially in recent years, with a devastating effect on our civic unity and social fabric." It's how you end up with a White House who promotes a teaching of history that, according to HISTORIANS, "seems to regard calling the Founders hypocritical about slavery as worse for the country than actual slavery."
In other words, THAT'S HOW YOU MAGA, BABY!
Follow Truthmissiles on Twitter here.