Heil Hawley! THIS Is What The LEFTISTS' CaNcEl CuLtUrE Looks Like!!!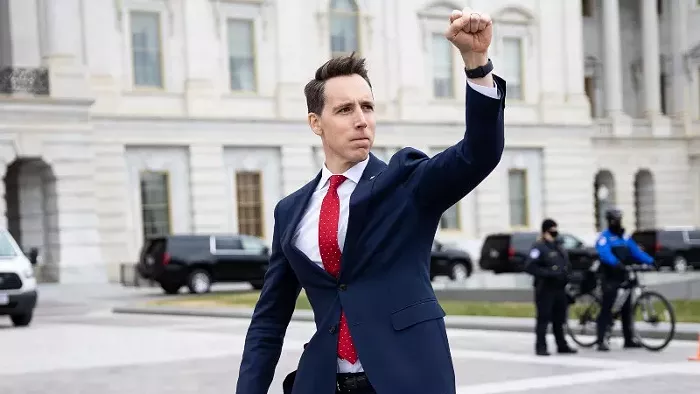 PATRIOTS, two weeks ago, Anti-American HERO Senator Josh Hawley, one of the staunchest boosters of President Trump's fact-free election fraud claims that led directly to the Capitol insurrection, was HEARTLESSLY SILENCED by the TRAITOROUS LEFT because he dared to stand up for FREEDOM, specifically the freedom to destroy the U.S. Government, overturn an election through violence, and take the Vice President and Speaker of the House hostage. You know, BASIC CONSTITUTIONAL RIGHTS! As a result of his PATRIOTIC STAND, Senator Hawley, Republican hero, LOST HIS BOOK DEAL! Simon & Schuster said that it would CANCEL the publication of an upcoming book by the senator, citing their "larger public responsibility as citizens." HOGWASH! HAWLEY WAS CANCELLED BY THE HATEFUL, FREEDOM-LOVING LEFTISTS!
Hawley came back at Shit & Schuster (or whatever that company is called) with a skin-blistering TRUTHBOMB statement posted on Twitter, the platform where he speaks to millions and where, presumably, he had not yet been CANCELLED. I don't know how this "cancelling" works; I just SCREAM ABOUT IT! Anyway, HAWLEY pointed out that the cancellation of his book deal by this private company was "a direct assault on the First Amendment," adding, "Only approved speech can now be published. This is the left looking to cancel everyone they don't approve of." AND, GUESS WHAT, PATRIOTS! JOSH HAWLEY WAS RIGHT! And, by RIGHT, I mean wrong. Because guess who just got his book published!
That's right! Josh Hawley!
Regnery Publishing, a conservative publishing house, said Monday that it had picked up a book by Senator Josh Hawley, Republican of Missouri, after Simon & Schuster ended its contract to publish it in the wake of assault on the Capitol.

The VERY FAKE New York Times (which is real, in this particular instance)
AND IF THAT'S NOT A TERRIFYING ENOUGH EXAMPLE OF THE DEVASTATING POWER OF THE TOTALLY REAL AND NOT IMAGINARY "LiBeRaL cAnCeL cUlTuRe," Simon & Schuster, the company that HEARTLESSLY CANCELLED HAWLEY, is the distributor for Regnery, which means the same company that SILENCED Hawley's right to destroy America through insurrection is now going to SELL and DISTRIBUTE his book.
TrUlY oRwElLiAn!!!!!!!!!!
PATRIOTS, as a good, LAW & ORDER Republican and TRUMP supporter, I want to live in an America where there are no consequences for engaging in insurrectionist activities! But THE LEFT HAS GONE TOO FAR! CONSERVATIVE VOICES ARE BEING SILENCED!
It's almost as if, other than controlling the most watched news channel, controlling the U.S. Supreme Court, controlling the Executive and Legislative Branches for the last four years, having plenty of publishing companies willing to promote and publish our deranged, anti-American and pro-Nazi ideas, having dozens of popular talk-radio echo chambers, and having dozens of online disinformation platforms promoting our blatantly false claims, CONSERVATIVES HAVE NO VOICE IN AMERICA!
CaNcEl cUlTuRe! CaNcEl cUlTuRe! CaNcEl cUlTuRe! TrUmP, tRuMp, TrUmP!
I fEeL pErSeCuTeD! My PrObLeMs ArE oThEr PeOpLe'S fAuLt! AnYtHiNg ThAt HuRtS mY fEeLiNgS iS tYrAnNy!
I'm A gIaNt, PrIvIlEgEd, EnTiTlEd BaBy! ThE cOnStItUtIoN iS wHaTeVeR i SaY iT iS! ThInGs I dO cAn'T bE iLlEgAl!
WhY aRe YoU tReAtInG mE lIkE a F***iNg BlAcK pErSoN? i'M nOt RaCiSt!
WhY aRe YoU hUrTiNg My FeElInGs?
StOp CaNcElInG mE wItH vAlId CrItIcIsM!
Follow Truthmissiles on Twitter here.