PA Patriot Sought By FBI Over Plan To Sell 'Crazy' Nancy's Stolen Laptop To Putin For TrUmP, tRuMp, TrUmP! (Everything's fine.)
PATRIOTS, it's no secret that a lot of our enemies are TOTALLY CRAZY, like "CRAZY" Nancy Pelosi! It's SAD because our people, TRUMP'S PEOPLE, are SO SANE, SO VERY, vErY sTaBlE! We're like, really sane! Many people are saying the SANEST EVER! Case in point, Riley June Williams, the American, pro-TRUMP PATRIOT pictured above, who HEROICALLY fought to destroy the country she loved based on one of TRUMP'S WONDERFUL LIES ABOUT ELECTION FRAUD. She's now WANTED for her role in the Capitol Insurrection. Specifically, she's wanted because she allegedly stole a computer from Nancy Pelosi's office as part of an alleged scheme to sell the device to TRUMP'S PATRIOTIC FRIENDS, THE RUSSIANS!
In many ways Riley June's story is the story of America. A young idealistic young woman from The Bowels of America, Pennsylvania, she had it all, until everything almost went tragically wrong. Williams almost fell for the Liberal Lie known as THE DEMOCRATS! She almost chose the easy life in the lame ol' World's Greatest Democracy, but eventually, she did the right thing. She HEROICALLY CHOSE RADICALIZATION through online, right wing message boards. She told those STUPID LIB-TARDS to SHOVE IT, and headed off to the MECCA of freedom, the CAPITOL INSURRECTION, with the intent of expressing her ULTIMATE FEALTY FOR TRUMP!
She broke into the Capitol amid the chaos, where she was caught on video by ITV News directing insurrectionists toward Speaker Pelosi's office. She was, according to the documentary reporter, "disciplined, focused, with a sense of urgency, directing people up a staircase."
And PATRIOTS, why wouldn't she have been disciplined? Like many of those who stormed the Capitol with the intent of murdering the Speaker of the House and the Vice President, she appears to have had a plan. A detailed plan. A pAtRiOtIcAlLy TrEaSoNoUs plan!
She allegedly stole a laptop from Speaker Pelosi's office. A video appears to have captured her fleeing the scene.
But like many best-laid plans, her EX got in the way! Riley June's RAT BASTARD FREEDOM-LOVING EX-BOYFRIEND (or girlfriend, but probably not 'cause she's a patriot) RATTED HER TRAITOROUS BEHAVIOR OUT TO THE FBI, that SICK SON-OF-A-BITCH!!! This VERY FINE person's ex snitched to the FEDS that Williams, "intended to send the computer device to a friend in Russia, who then planned to sell the device to SVR, Russia's foreign intelligence service… the transfer… to Russia fell through for unknown reasons."
Unfortunately for Donald Trump, his insurrectionists, and everyone else who hates America and Democracy, Riley June Williams' plan to sell out her country to Russia fell through "for unknown reasons" and she "still has the computer device or destroyed it."
So, she's currently wanted by the FBI and according to the government, "It appears that WILLIAMS has fled."
PATRIOTS, let the story of Riley June Williams be a cautionary tale for anyone considering joining the TREASONOUS, PATRIOTIC CAUSE of the leftists who support Democracy, and who oppose TrUmP, tRuMp, TrUmP! Riley June almost ended up as a mindless LEFTIST! Luckily, she chose a better path. She lobotomized herself for TRUMP, betrayed her country, and now, at just 22 years old, fleeing the FBI after having participated in a terrorist attack, she's just another example of an American life ENRICHED BY TRUMP'S HEALTHY GOODNESS!
According to the FBI, Riley June Williams' mother stated that before the January 6 insurrection, "her daughter had taken a sudden interest in President Trump's politics and "far right message boards." She claimed that WILLIAMS 'took off,' 'is gone…'"
She sure is! She sure is "gone" in every sense of the word! Don't you want to be like Riley June Williams, PATRIOTS? Get on those "far right message boards!" Don't wait! This face could be you, if you just let go of your useless mind and EMBRACE THE TRUMP, TRUMP, TRUMP!
PATRIOTS, it's not just Riley June Williams! More Americans are being vaccinated every single day against the DISEASE OF LIBERAL THOUGHT! There's also the founder of the comically-on-the-nose group COWBOYS FOR TRUMP! He's also a New Mexico County Commissioner and he was arrested on charges of illegally entering the U.S. Capitol, or as he put it, he was "caught up" in the crowd.
He told investigators he never entered the Capitol Building, but, unfortunately for this Cowboy For Trump, video he posted on his OWN FACEBOOK PAGE shows him inside restricted areas of the Capitol. But, he was just "caught up," which is why he recently told a meeting of county commissioners that he was going back to Washington with his guns on Inauguration Day.
He said, "I'm gonna be there on Jan. 20 … and I'm gonna take a stand for our country and for our freedoms… I'm gonna leave either tonight or tomorrow. I've got a .357 Henry Big Boy rifle lever action that I've got in the trunk of my car and I've got a .357 single action revolver, the Colt Ruger Vaquero that I'll have underneath the front seat on my right side and I will embrace my Second Amendment.
"I will keep my right to bear arms. My vehicle is an extension of my home in regard to the Constitution law, and I have a right to have those firearms in my car," he said.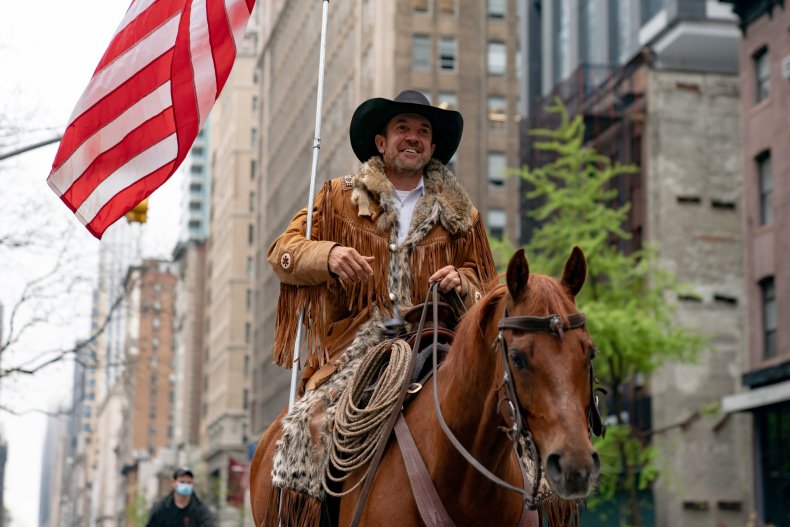 Just another patriot rejecting the LIBERAL DISEASE of THOUGHT! The madness is spreading! Embrace the TrUmP, tRuMp, TrUmP, unless you wanna live a prosperous, safe and secure life outside of jail and outside of the CULT, like a total "loser" and "sucker!"
Follow Truthmissiles on Twitter here.