Let's Just Delay This Whole Biden Thing 'Til We Get Rid Of This 'Virus' We Never Cared About, Says Idiot GOP Senator
PATRIOTS, I've never respected Tommy Tuberville as a Senator, but…
Well, I guess there's supposed to be a "but" at the end of that sentence for us TRUMPeters, but I've got nothing. Frankly, the man's an idiot. And that's OKAY with me, because it takes all kinds to make a fascist dictatorship go 'round, and Tommy Tuberville is the IDIOT that makes the President look smart by association.
So, PATRIOTS, I applaud SENATOR Tommy Tuberville's newest uninformed, idiotic suggestion about how to keep TRUMP in power beyond the end of his legal term as president. The suggestion, frankly, makes Rudy Giuliani's treasonous butt-dials, landscaping promotions and head leaks look like competent legal representation by comparison. Tommy Tuberville's latest idea to extend TRUMP'S treasonous PATRIOTIC fascism is that we should just DELAY Biden's inauguration until we finally get the coronavirus "behind us a little bit. "
W-w-w-w-w-what? Behind us? B-b-b-buuttt, I thought we'd already defeated the virus, while, of course, we just have to "live with it," because it doesn't affect anyone, and, on top of that, it's a hoax perpetuated by AMERICA'S EVIL, LYING DOCTORS and HEALTHCARE WORKERS, plus, none of us need to wear a mask or social distance, anyway. Just ask Trump's own campaign and White House officials, who have never done that, and barely acknowledged the virus' existence, which is probably why they've been failing to successfully provide the vaccine to Americans in any meaningful time frame.
If anything, TRUMP'S been making the virus worse at every turn.
So, I guess it makes total sense that we must now wait until Trump gets the virus "behind us" in order for him to leave office, because that will never, ever happen even "a little bit" as long as Trump remains in charge of botching America's response to this health crisis at every possible opportunity. Yes, I see how it works now. I, as a LOYAL, TERRORISTIC, TRUMP SUPPORTER, support this! TRUMP will remain in power forever! All he has to do is keep f***ing everything up! EASY!
Of course, Tuberville, like TRUMP, the GOP and all their mindless supporters don't know that the Constitution sets the date of the next president's inauguration by law, because they've never read that USELESS, ANTI-TRUMP SCREED. But, PATRIOTS, I say, "Who cares what that dumb, ol' Constitution says. We're in power." So, lets throw away that raggedy ol' document that we've literally spent our entire Pre-TRUMP political existence arguing SHOULD BE INTERPRETED LITERALLY, AND SHOULD GOVERN EVERY SINGLE DECISION WE MAKE!
In the words of AMERICAN PATRIOT, Spongebob Squarepants, "I don't need it!"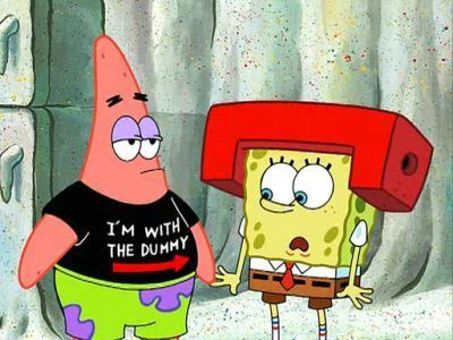 THIS IS WHY WE NEED MORE FOOTBALL COACHES RUNNING OUR COUNTRY!
Follow Truthmissiles on Twitter here.