'BOTH SIDES' At Fault For TRUMP MOB'S Violent, Terrorist Coup Attempt, Says GOP Extremist Congressman
PATRIOTS, there's nothing we TRUMP-FLUFFERS love more than a good BOTH-SIDES-ing! I nearly blew my pants off when TRUMP said in 2017 that there were "very fine people on both sides" of the WHITE SUPREMACIST NAZI mob that heroically terrorized Charlottesville, VA, and killed one woman, and I didn't think anything could TOP that. Well, I was wrong, because Republican Representative Ken Buck (R-CO) TOPPED that BIGLY this morning on CNN! So BIGLY tHaT i CrEaMeD mY tRuMp FlAg!
Ken Buck fact-f***ed CNN's lib-hard host back to lib-o-stan when he reminded him that "both sides are at fault" for the mob violence and coup attempt that the president incited at the Capitol Building last week, in response to Democracy's VERY UNFAIR treatment of the PRESIDENT.
"To say that there's one speech or one incident that caused this group of people to storm the Capitol is just not accurate. What I'm trying to suggest to you is that both sides are at fault and that in America, we need to be very careful of the words we use."

Rep. Ken Buck (R-CO)
Buck's TRUTHSTORM triggered Clinton News Network host John Berman, who couldn't believe Buck–himself a potential target of the president's violent, pre-meditated attack on Democracy–would suggest that Democrats were to blame. Berman SNOWFLAKED so hard while he asked Buck to justify his PATRIOTICALLY INSANE remarks, simply because they made NO SENSE, and BUCK responded by Trump, Trump, Trumping Berman right up the TRUTH HOLE, reducing him to a screaming puddle of leftist tears! MAGA (Make America Grieve Again), baby! "What did the other side do?" Buck asked incredulously. "You're asking me what Democrats have done to make the MAGA crowd mad?"
What a STUPIDLY intelligent question!
Berman didn't allow BUCK to FINISH HIS BIG LIE, so I'll do it for him.
THE DEMOCRATS COUNTED THE VOTES! THE DEMOCRATS DIDN'T LIE TO THE AMERICAN PEOPLE! THE DEMOCRATS TOLD TRUMP SUPPORTERS THAT TRUMP LOST, JUST BECAUSE HE DID! THEY DIDN'T JOIN THE CRUZ-HAWLEY-BROOKS DENIAL & FASCISM CAUCUS TO OVERTHROW THE GOVERNMENT! And for these TREASONOUS CRIMES AGAINST TRUMP, I SAY…
HANG 'EM HIGH!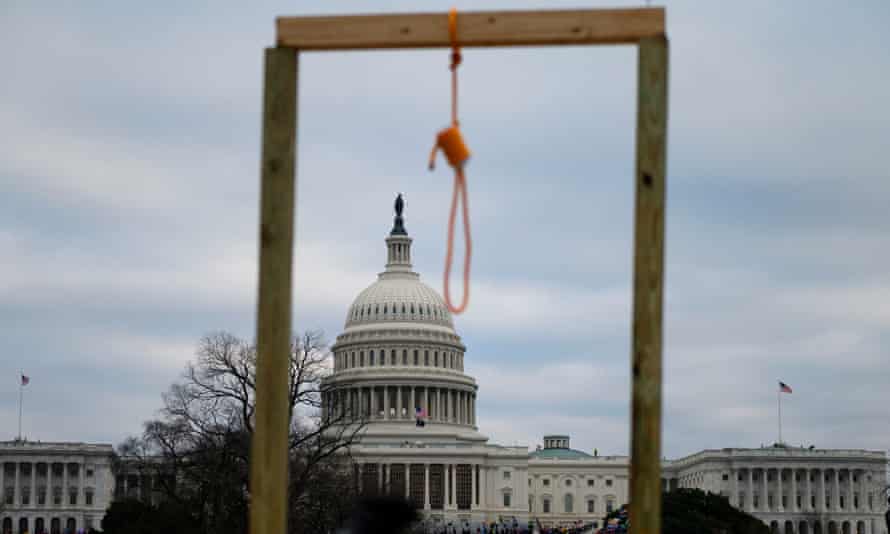 And I've been doing some research, PATRIOTS. Turns out American history is littered with SNOWFLAKES who loved their precious Democracy more than terrorism-installed PATRIOTIC fascism for TRUMP. Jefferson, Washington, Adams–these are just some of the VILLAINS OF AMERICAN HISTORY who should have been hung for trying to BRAINWASH THE AMERICAN people with the EVILS of TRUTH and DEMOCRATIC ELECTIONS!
HANG EM HIGH! Dig up their corpses, and string them up! They must be punished, just like those who stand with freedom and therefore against TRUMP! We'Re NoT cRaZy!
BOTH SIDES ARE TO BLAME FOR THIS VIOLENCE! Sure, there might be a little blame for the TRUMP supporters and the president who plotted in advance to assassinate the Vice President and Speaker of the House during the certification of Electoral College votes, but MOST OF THE BLAME goes to the LIBERAL LEFTISTS who woke up on the morning of January 6th determined to selflessly do their duty to Democracy and America, the two BIGGEST ENEMIES of TRUMP! Sure, I guess Democracy has some value, but TRUMP is more important! TRUMP is AMERICA! TRUMP is FREEDOM! TRUMP is TRUTH!
The LEFT is the to blame!
The LEFT is to blame because sitting Republican members of Congress allegedly gave the TRUMP coup plotters "reconnaissance" tours of the Capitol building on the day before the TRUMP mob breached its walls in search of Congressional and Vice Presidential blood. BOTH SIDES!
The LEFT is to blame because the TRUMP WHITE HOUSE was reportedly in contact with the rioters as they were roaming the halls of Congress, looking for legislators to take hostage or kill. BOTH SIDES!
The LEFT is to blame because Democratic Rep. Ayanna Pressley's staff discovered that all the panic buttons in her office had been "torn out" before the coup attempt and they discovered this once the TRUMP MOB had breached the Capitol with intent to harm her. BOTH SIDES! SHAME!
The LEFT is to blame because Democratic Rep. Alexandria Ocasio-Cortez "thought [she] was going to die," at one point during the coup and siege when she had a "very close encounter" with the TRUMP supporting violent mob. "It was not an exaggeration to say that many members of the House were nearly assassinated," she added, like a LEFTIST!
The LEFT is to blame because Republican members of Congress are now refusing to submit to the metal detectors that had to be installed outside the House of Representatives' floor because one of their colleagues is publicly bragging about how she is going to continue to carry a firearm inside the Capitol in violation of D.C. law, and that same member was live tweeting Speaker Nancy Pelosi's location to the insurrectionists during the Capitol siege. BOTH SIDES!
And, yes, this just seems like a list of things REPUBLICANS have selfishly done to, at best, endanger our government, and at worst, willingly commit insurrection and participate in a coup attempt for TRUMP, but make no mistake, this attempt to kill Democratic members of Congress and prevent a duly elected Democrat from being sworn in as president is the FAULT OF BOTH SIDES!
WHY?
ASSHOLE KEN BUCK SAYS SO! THAT'S WHY!
WHY DOES HE SAY SO?
I DON'T KNOW WHY! MAYBE HE JUST WANTS TO SEE THE NEXT COUP SUCCEED! AnD wHaT's WrOnG wItH tHaT?
TRUMP! TRUMP! TRUMP! TRUMP! TRUMP! TRUMP!
These colors don't THINK!
Follow Truthmissiles on Twitter here.