Remember ALAMO! But not *THE* Alamo!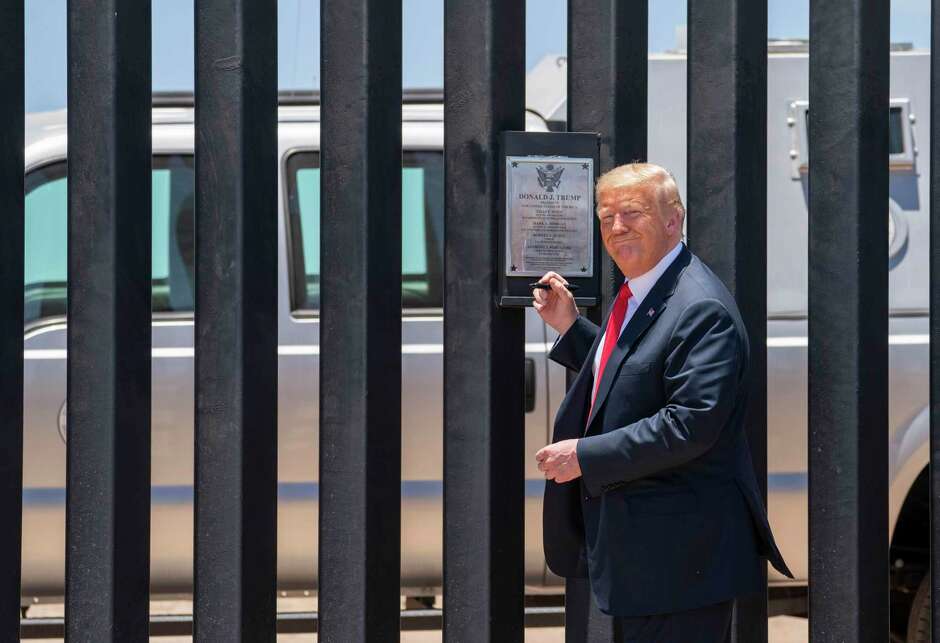 PATRIOTS, there are two things you need to remember. Number one, Donald Trump is not responsible for inciting that PATRIOTIC terrorist attack on the Capitol Building that he totally supports; he had nothing to do with it! Because his pre-coup attempt speech was "totally appropriate" (his unhinged words, not mine)! Number two, TRUMP wants his supporters to FIGHT TO THE DEATH to defend his fact-free claim that he won the 2020 presidential election! Got that? He's not responsible for the fight! But he IS going to fight like hell! No contradiction here, PATRIOTS!
That's why Donald Trump is headed to Alamo, Texas, today! Because we're making our last stand! Our last, bloody, defiant, fight-to-the-death stand that has nothing to do with fighting, or death, which the president doesn't support, but it would be totally cool for him to support it, if he did, according to him!
The president's niece, Mary Trump, knows. She says the president is going to Alamo, Texas because he "undoubtedly" wants to invoke the violent symbolism behind the historic battle of the Alamo, where almost everyone died. And LOVING PRESIDENT T wants the same for all PATRIOTS and their families!
His heart is in the RIGHT place! Unfortunately, his location is about 225 miles off. Because THE ALAMO, the site of the famous battle Trump is apparently trying to invoke, is in San Antonio. And Alamo, Texas, where the president is headed, is not. But, knowing Trump, it's possible he meant for his visit to take place at an Alamo Rent-a-car, in part of some kind of synergistic branding attempt, like his fraud press conference at the Four Seasons Total Landscaping.
But, if there's one POSITIVE to come from the president's HACKNEYED attempt to equate himself with those who died fighting at the Alamo, it's that he has stoked the potential for more bloodshed! The president's trip to Alamo "has Texas on edge and tensions a[re] 'running dangerously high,' according to Hidalgo County Judge Richard Cortez," the Houston Chronicle reports.
Sometimes, though, you need a little light threatening to EXPERIENCE MAXIMUM FREEDOM. Republican Representative and HITLER ENTHUSIAST, Madison Cawthorn knows. Sure, Cawthorn called the terror attack on the Capitol by Trump supporters "sickening," but that was AFTER the attack. Before the attack, he was on stage at the "Save America" rally helping incite Trump supporters' attempt to execute the Vice President and Speaker of the House. And, we learned today that Cawthorn encouraged Trump supporters who didn't want to accept the MATH of the election results to call and "lightly threaten" their Congressmen, and to tell them that they are "coming after them." If that's not AMERICAN VALUES, then I don't want to be an American anymore! I want to be like Madison Cawthorn and IDOLIZE A REAL PATRIOT, LIKE HITLER!
And before all the HATEFUL LEFTISTS get their panties in a bunch over Cawthorn's words, which were met with raucous applause by the Trump supporters, I'd like to just point out there is ABSOLUTELY NO CONNECTION between Cawthorn's encouragement of violent threats and the actions of Trump supporters who DID EXACTLY THAT!
Uh-oh, I'm starting to get dizzy from the smell of my own bullshit. Better get my head back in the game!
TRUMP! TRUMP! TRUMP! TRUMP! TRUMP!
That's better.
Okay, ready to get back to terrorizing America because I jUsT lOvE tHiS cOuNtRy So GoDdAmN mUcH!
ThEy'Re TrYiN' tO rUiN mY lIfE bY cAlLiNg Me A tErRoRiSt!
And you know it was PATRIOTIC because there was a guy who looked like Chuck Norris at the "Murder the Vice President and House Speaker Rally" in Washington, too, even though it wasn't really him.
In the end, a representative for Norris confirmed the man was not Chuck Norris, it was just a "look alike." But rest assured, Chuck Norris still loves TRUMP! Well, you know what they say, "Chuck Norris doesn't read books. He stares them down until he gets the information he wants. . . except that books don't really work that way, so it turns out Chuck Norris is a fucking idiot."
And they're going to try it again.
"They were talking about 4,000 armed 'patriots' to surround the Capitol and prevent any Democrat from going in," [Rep. Connor] Lamb [D-Pa] said. "They have published rules of engagement, meaning when you shoot and when you don't. So this is an organized group that has a plan. They are committed to doing what they're doing because I think in their minds, you know, they are patriots and they're talking about 1776 and so this is now a contest of wills."
Follow Truthmissiles on Twitter here.