Every Bad Thing WE Do Is ANTIFA'S FAULT!
PATRIOTS, I've spent the last 24 hours making piss-poor excuses for our PATRIOTIC assault on our nation's capitol and defending our right to PROUDLY COMMIT SEDITION, but the time has come to STOP PULLING OUR PUNCHES and speak the truth. No, not the FACTUAL TRUTH promoted by the liberal conspiracy known as "reality." I'm talking about REAL, GUT-LEVEL TRUTH. The truth that just came to LIGHT! The FAKE TRUTH! The truth that the thousands of anti-America terrorists who assaulted the U.S. Capitol building demanding that Trump be installed as dictator of THESE FREE UNITED STATES were actually COVERT OPERATIVES of the IMAGINARY LEFTIST ORGANIZATION KNOWN AS ANTIFA!
Republican PRO-AMERICA TERRORIST MATT GAETZ got it right when he returned to the House of Representatives last night after being forced into hiding for five hours by these TRUMP-FLAG-WAVING LEFTISTS whose sedition killed four Americans in their VIOLENT COUP ATTEMPT.
LISTEN AND HEAR, SHEEPLE!
"The Washington Times has just reported some pretty compelling evidence from a facial recognition company showing that some of the people who breached the capitol today were not Trump supporters. They were masquerading as Trump supporters and, in fact, were members of the violent terrorist group ANTIFA."

PRO-TERRORIST PATRIOT MATT GAETZ
ANTIFA! The sane, rational, fact-loving supporters of Donald Trump would never engage in the terrorist acts we saw on Capitol Hill! Trump supporters are always calm and respectful! Evidence shows THAT THIS WAS ANTIFA!
PATRIOTS, this PRO-DEMOCRACY CONSPIRACY against Trump is SO BIG that the company that allegedly produced the only evidence for it maintains that the entire conspiracy theory is "outright false." The facial recognition company that Matt Gaetz and The Washington Times reported on never even made any such claims! They say the claims are "outright false, misleading, and defamatory." My head hurts!
So, PATRIOTS, there are only two options. Option #1: Matt Gaetz and The Washington Times are KNOWING LIARS who seek the collapse of the U.S. Government so that their FASCIST PRINCE Donald Trump can seize control of the country by force. Or, Option #2: Despite there being no evidence it was ANTIFA, it really was ANTIFA who stormed the U.S. Capitol RIGHT AFTER Donald Trump ordered and incited his own supporters to storm the capitol.
I know OPTION #2 sounds A LOT MORE PLAUSIBLE TO ME!
After all, DOES THIS REALLY LOOK LIKE A BUNCH OF TRUMP SUPPORTERS TO YOU?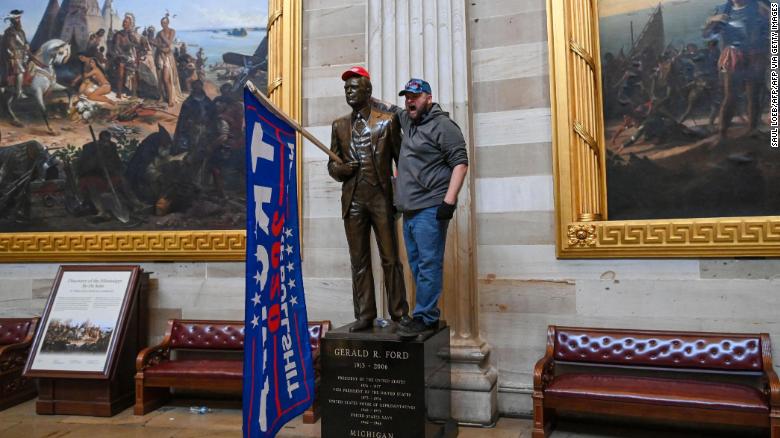 White people. Trump flags. No black people in sight. Viking hats. Neck beards. Trump hats. Cops taking selfies with the rioters. No masks. Confederate flags.
These are the HALLMARKS OF ANTIFA!
SHUT UP FAKE YORK TIMES! We don't need your liberally biased reality! It was ANTIFA and you know it! You SHUT UP RIGHT NOW, LEFTIST SCUM! If you don't shut up, we'll storm the Capitol and BURN! THIS! WHOLE! MUTHER! FUCKING! COUNTRY! TO! THE! GROUND!
WE DON'T CARE! WE'LL DO IT!
STOP THE STEAL!
TRUMP! TRUMP! TRUMP! Q!
Whew. Sorry. ANTIFA just took over my fingers for a second and tried to frame me as a violent lunatic. Gotta tighten up that tin-foil hat.
Patriots, Trump support is about love. Love and peace. ANTIFA is about destroying democracy, by violent, extra-judicial actions (like counting legally cast, Dim-o-cratic votes).
ANTIFA is trying so hard to make Trump supporters look bad that its members also dressed up as Nazis to try to sully the good name of the destructive, pro-Trump riot. Fake ANTIFA Proud Boys wore slogans endorsing the extermination of Jewish people, something Trump supporters would clearly never endorse. Right?
Don't say Charlottesville! ANTIFA would say Charlottesville right now!
The LEFT wants you to believe that ALL TRUMP supporters are anti-American lunatics who are lost in their own mindless support of a dictator and who seek to overthrow Democracy because they didn't get what they wanted on Election Day. RESIST IT, PATRIOTS!
WE, PATRIOTS, ARE NOT WHO WE APPEAR TO BE! We love this country above all else! We love freedom and democracy! We seek the truth! We have compassion! We value Christian values!
Don't let VIDEO EVIDENCE convince you that the TRUMP MOVEMENT is a DERANGED, ANTI-AMERICAN COUP against everything our country represents! THE VIDEO IS ANTIFA! Don't let violent terrorists dressed as TRUMP supporters convince you that TRUMP support now means supporting violent terrorism! The terrorists are ANTIFA. ANTIFA NEWS! ANTIFA NEWS! Don't let the resignation of top officials in the Trump government in protest of the president's support for this coup convince you that the people who know Trump best know he is an insane man who doesn't love this country. Those officials are ANTIFA! Don't let the president's own words saying he "loves" the terrorists who assaulted the peaceful transition of power in the U.S. convince you that the president "loves" terrorists! His words are ANTIFA!
REMEMBER, PATRIOTS, we can do whatever we want, and there will NEVER BE CONSEQUENCE. We can, and should, as TRAITOROUS SCUM Mitt Romney so eloquently put it last night, "weigh our own political fortunes more heavily than we weigh the strength of our republic."
No matter how badly we behave, no matter how much violence, and death and destruction our tribe of TRUMP-SUPPORTING freedom haters inflicts, we must always remember, "We have met the enemy, AND THE ENEMY IS ANTIFA!!!!!!" The enemy is not us!
ANTI-DEMOCRACY PATRIOT TUCKER CARLSON of Fox News summed the day up in the wake of the death and destruction that the president he and all America-loving Republicans still support, when he told TRUMP supporters the REAL truth.
"If you don't bother to pause and learn a single thing from it, from your citizens storming your Capitol Building, then you're a fool. You lack wisdom and you lack self-awareness. You have no place running a country. We got to this sad chaotic day for a reason. It is not your fault. It is their fault."

TUCKER "NOT-YET-AN-ANTIFA" CARLSON
We are not missing the point! ANTIFA is missing the point!
Follow Truthmissiles on Twitter here.