RUSH to CIVIL WAR! Limbaugh declares there will be NO PEACE until KING TRUMP'S CORONATION!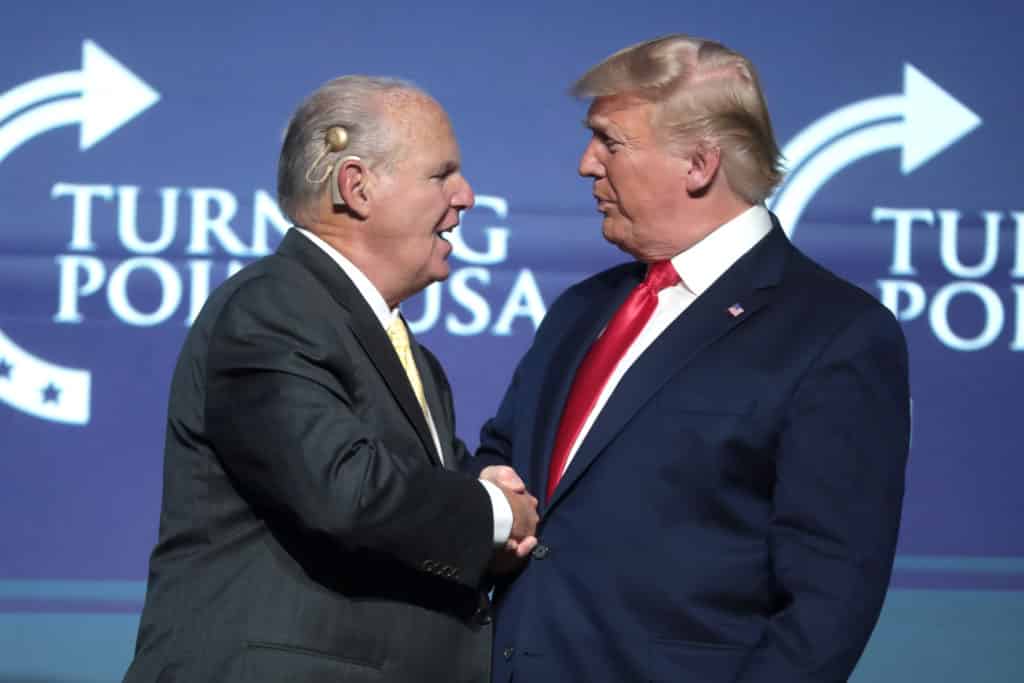 Sheeple, few Americans command the respect and dignity of anti-white guilt crusader and "Thug Basketball Association" promoter Rush Limbaugh. When RUSH says something, you know it's not just some knee-jerk, willy-nilly spew designed to inflame tensions and divide America. RUSH doesn't just RUSH to judgement. His words are reasoned, thought out and long-deliberated. Which makes today's PRONOUNCEMENT from the self-proclaimed "America's Anchorman" especially important.
"America's Anchorman" is through with America! It's time for the Trump-nited States of Trumpica to secede because more than half of America just isn't AMERICAN enough!
"I actually think that we're trending toward secession. I see more and more people asking what in the world do we have in common with the people who live in, say, New York? What is there that makes us believe that there is enough of us there to even have a chance at winning New York? Especially if you're talking about votes… There cannot be a peaceful coexistence of two completely different theories of life, theories of government, theories of how we manage our affairs. We can't be in this dire a conflict without something giving somewhere along the way."

"America's Anchorman" Rush Limbaugh
Did the Federalists and the Anti-Federalists who formed the Constitution say, "Sorry we just can't get along, so let's make two countries?" YES, PATRIOTS! THE ANSWER IS YES! And now the time has come for another CIVIL WAR! The TRUMP states will rise again!
We gave democracy a chance, patriots, but democracy just didn't do enough to block the will of the people and turn over all power in the United States to an ignorant, vengeful, sociopathic, serial-lying reality TV buffoon with no knowledge about our country's government and no desire to learn (who is also a former Democrat), so it's time to retire that quaint, old idea about VOTERS having power in this country and use the same tool to DEFEND THE PATRIOTIC TRUMP MONARCHY that the Confederacy used to defend the PATRIOTIC FREEDOM OF OWNING SLAVES. Secession! (Maybe we can even bring slavery back.)
And Rush LimBALL(S OF BRASS) doesn't let LYIN' FACTS, like the fact that Trump states take way more money from the federal government than they pay in taxes, stand in the way of his brilliant idea of SECESSION, either, because RUSH, LIKE ALL TRUE PATRIOTS, doesn't care about the suffering of his supporters. Studies have shown if you're poor, you're either lazy or black. Probably both. FACT. Every Conservative commentator knows this!
Rush isn't the only PRESIDENTIAL MEDAL WINNER to give up on lame, old American Democracy and embrace their inner CONSERVATIVE FASCISM. Former on-screen Secretary Of Defense Jon Voight is also tossing his lot in with the CIVIL WARRIORS. Just a couple days ago he took to social media to "ask all to fight this battle now, to get them all out." "Them," of course being elected Democratic politicians like SLEEPY CREEPY JOE BIDEN and California Governor Gavin Newsom. They're "evil," as totally-sane Jon Voight calls them.
Rush Limbaugh and Jon Voight think that the democratic process removing a fascist president from power is the final death knell for the American experiment, and flag-waving Republican PATRIOTS all across America are with them. They're calling for violence to overthrow our new, not-yet-installed (not)Communist government. Just this week, the Arizona Republican Party took to Twitter to ask Americans if they're "willing to give [their] life for this fight" to steal the election for Trump. Then, they posted a clip from the classic PRO-VIETNAM WAR movie "Rambo" that highlighted the quote, "This is what we do, who we are. Live for nothing, or die for something."
Patriots, the seeds of VIOLENCE FOR TRUMP are being sown by GOOD REPUBLICANS all across the country that we both love and want to destroy if it moves even slightly toward moderate policies that don't SHOWER THE HOLY RICH WITH EXORBITANT AMOUNTS OF FREE MONEY and SUBJUGATE LAZY MINORITIES.
Rush Limbaugh, Jon Voight, King Trump's legal team, and many unhinged Republican officials across this country are willing to stand behind this PATRIOTIC MOVEMENT TO DESTROY AMERICA. They just need good, MINDLESS TRUMP SUPPORTERS LIKE YOU TO STAND AT THE FRONT OF IT AND "DIE" SO THAT THEY CAN KEEP GETTING RICHER ON THE BACKS OF YOUR SUFFERING!
DO YOUR PATRIOTIC DUTY!
Follow Truthmissiles on Twitter here.